YouTubers are highly influential, and though you mostly see them through your screens, there is the chance of seeing them in person. You can find popular YouTubers in places like New York or California, but you can also find them in the charming British city of Brighton.
Here are some of the best YouTubers that live in Brighton worth watching:
1. Pewdiepie (Felix Arvid Ulf Kjellberg)*
Pewdiepie, born on 24 October 1989, held the position of the most subscribed YouTuber from 15 August 2013 to late 2019.
In addition, he was the second overall and first individual creator to receive the Red Diamond Creator Award commemorating his achievement of 100 million subscribers, which is no small feat.
This Swedish YouTuber/streamer was primarily known for his gameplay and comedic videos, some of his old classics relating to Amnesia, Goat Simulator, and Happy Wheels. He mostly uploaded this content when he initially registered his YouTube channels in 2010.
Over a few years, his content began maneuvering away from Let's Plays and more towards vlogs, comedic shorts, formatted shows, and music videos.
Currently, with 111 million subscribers and 28.5 billion views, Felix has semi-retired from YouTube, stating that he only wishes to upload for enjoyment rather than a career.
After many years of consistency and dedication, he has finally settled down, having moved away from Brighton to Japan with his wife, Marzia.
Even though he no longer lives in Brighton, he spent so many years there that this list would go amiss without him and Marzia.
2. Jacksepticeye (Seán William McLoughlin)
Jacksepticeye, born on 7 February 1990, is the most influential and comedic Irish YouTuber/streamer popular for his gaming content and occasional vlog videos. However, you can never forget his iconic phrase, "Top of the morning to ya, adies!"
In September 2022, this beloved creator accumulated over 15.5 billion views and 28.7 million subscribers, making him the most subscribed Irish YouTuber on the platform.
He has also widely branched into the market with two established companies: the clothing brand Cloak (co-founded by fellow YouTuber Markiplier) and Top of The Mornin' Coffee company owner.
With so much success, it shouldn't surprise that Jacksepticeye's net worth is around $50 million.
3. GeorgeNotFound (George Davidson)
GeorgeNotFound, born 1 November 1996, is an English YouTuber/streamer most known for his Minecraft content and association with the 'Dream Team' and the Dream SMP.
He is also known for his red-green colorblindness, which draws some irony as Dream's Minecraft skin mostly consists of green.
Most of his content consists of Minecraft challenge videos. He also features as a hunter in the hit Minecraft Manhunts, popular on his friend's Dream channel.
In addition, he frequently participates in the cooperative Minecraft event known as MCC (Minecraft Championship), which brings together Minecraft content creators to compete, showcasing various skills related to the game.
However, as of 3 October 2022, he received his visa to finally visit his close friend Dream, aka Clay. This event also led to the huge reveal of Dream's face.
George does plan to eventually move to Florida to live with both Dream and Sapnap, having the entire 'Dream Team' under one roof.
4. Wilbur Soot (William Patrick Spencer Gold)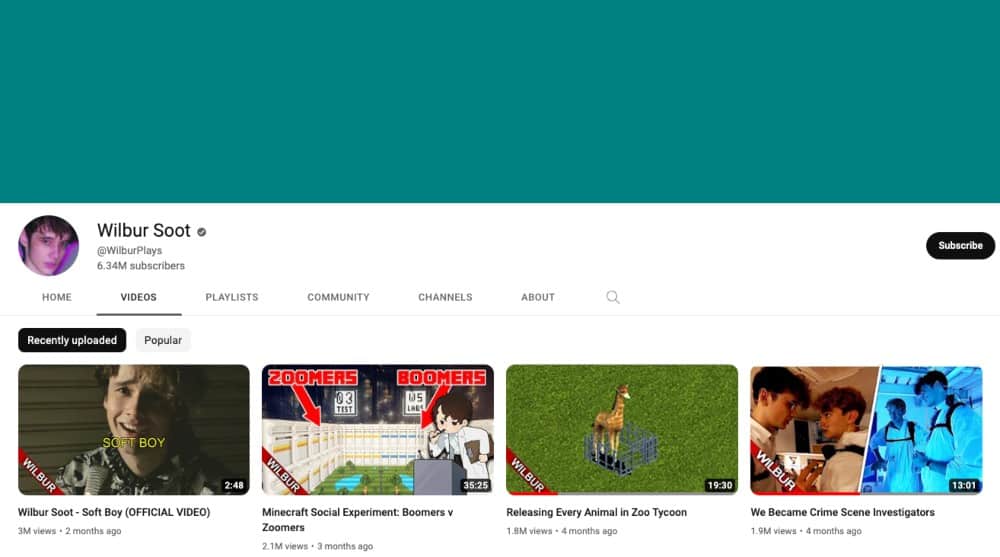 Wilbur Soot, born 14 September 1996, is another English YouTuber/streamer that got firstly recognized for his involvement in a comedy group known on YouTube as SootHouse.
He also showed his passion for music with multiple popular singles and co-founded the British indie rock band Lovejoy.
Wilbur accumulated a big portion of his audience from his contribution to the Dream SMP. He was a crucial part of the storyline as a character and a writer and has led the server through great storytelling.
He also participates in the monthly MCC tournament with his fellow Minecraft content creators.
With so many talents, Wilbur Soot has amassed a net worth of approximately $3.3 million already.
5. Ranboo
Ranboo, born on 2 November 2003, is an American YouTuber/streamer known for his Minecraft content and association with the Dream SMP.
Additionally, he partakes in the MCC tournament with his fellow Minecraft content creators.
He is carefully secretive about his personal life, retaining information from the public, including his real name and entire face (which he covers with his iconic black and white mask).
On 24 April, he revealed his sexuality, proudly coming out as gay and unlabeled.
6. Nihachu
Nikita, better known as Niki, is a German YouTuber/streamer born on 3 November 2001. She is mostly known for her gaming and casual chatting streams.
Her YouTube channel, Niki Nihachu, is where she uploads her various gaming content. She currently has accumulated 1.4 million subscribers and over 30 million views.
She is also a part of the Minecraft community by participating in big events such as the Dream SMP and the MCC Championships.
In addition, she has collaborated with other content creators such as GeorgeNotFound, Wilbur Soot, JackManifoldTV, Quackity, etc.
7. JackManifoldTV (Jack Thomas Manifold)
Jack, born 14 August 2002, is an English Youtuber/streamer that is close friends with Tubbo and TommyInnit.
Even though he is known as JackManifoldTV on his YouTube channel, he was formerly known as Thunder1408 (the name you can see showcased as his Minecraft gamer tag). He currently has 421k subscribers with over 23 million views.
Like many Minecraft content creators, he has participated in various MCC events and joined the Dream SMP on 3 August 2020.
He has grown immensely since then, going from an average of 100 viewers to over 10k.
8. Lovejoy
Lovejoy, an English indie rock band, debuted on 10 May 2021 with their EP Are You Alright? Some of their most popular releases include One Day, Taunt, and Sex Sells.
Their YouTube channel currently has 1.29 million subscribers and over 67 million views.
In addition, the popular band consists of four members.
The band features popular Minecraft content creator Wilbur Soot, who we've already mentioned above, as their main vocalist and guitarist. Other members of the band include Joe Goldsmith (guitar), Ash Kabosu (bass), and Mark Boardman (drums).
9. Zoella (Zoe Elizabeth Sugg)
Zoella, born on 28 March 1990, is a widely renowned influencer, entrepreneur, and author. She initially gained fame from her content on YouTube, which she started in 2009.
Her vlog channel nowadays sits at 4.92 million subscribers and over 969 million views. However, her main channel has 10.8 million subscribers and over 1.11 billion views.
In addition, she has close relationships with two other content creators: Joe Sugg (brother) and Alfie Deyes (partner).
As a result, she has become extremely successful, expressing herself and her ideals through various forms of media.
10. TommyInnit (Thomas Simons)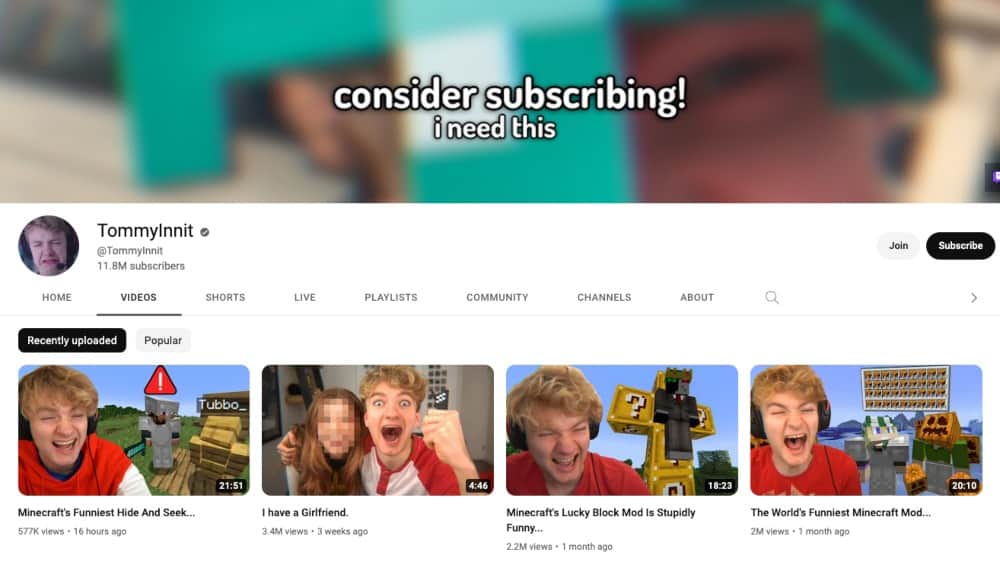 Tommy, born on 9 April 2004, is an English YouTuber/streamer who primarily creates content relating to Minecraft. He is one of the essential characters in the Dream SMP, part of all the most popular events.
In addition, he is a regular competitor in the MCC Championships. He has stated that his quick rise to fame at such a young age has permanently changed his life.
He first began uploading to YouTube on a channel called Channelnutpig, which he then wisely changed to TommyInnit.
His roots began in Minecraft with content featuring minigames from the popular server Hypixel, such as SkyBlock.
His main channel currently has 11.8 million subscribers and over 1.61 billion views. However, when looking at all his channels combined, he's accumulated 24.85 million subscribers and over 2.35 billion views.
These numbers also equate to quite a bit of cash, with TommyInnit's net worth estimated at $7 million.