In 2006, a year after YouTube started, the term YouTuber was coined. It would launch the craze of internet personalities becoming stars in their own right, and you know what they say… If you can make it in New York, you can make it anywhere, so let's look at some popular YouTubers that made it in the big apple.
Most Popular YouTubers that live in New York:
1. Kelsey Simone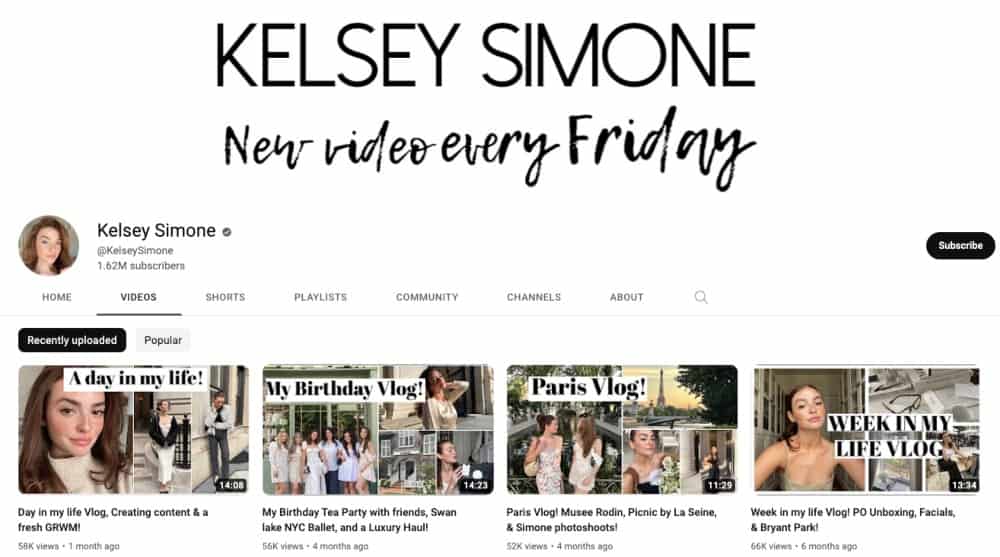 Kelsey Simone is a fashionable young vlogger who shares tips on her daily life, lifestyle ideas, the latest fashions, and trend alerts on her channel.
She is a born and bred New Yorker and regularly shares videos of places she visits, such as restaurants and theaters.
Kelsey loves giving young subscribers ideas on what to wear to prom, what fashions can be expected for upcoming seasons such as fall or summer, and what makeup trends to follow.
She cross-shares her vlogs on other platforms like Tiktok and Instagram pages.
Kelsey Simone Info:
Fashion and lifestyle vlogger
1.61 million subscribers 
Average views of 50,000 per video
2. Erik Conover
Eric Conover is a real estate agent, former model, and fitness and health enthusiast, and she loves making films. He specializes in showing off exclusive and hidden real estate gems all around New York City.
Some of his most watched videos on Luxury Listings show luxurious penthouses, paparazzi-proof apartment buildings, and the smallest New York apartment of only 80sq feet.
Erik loves to travel, and that is how his YouTube career started. He shows places, spaces, and the best foods to eat.
In one of his most popular video series, he does a 60-day body transformation. He works out with Chris Hemsworth, detailing the complete change and how you can do it too.
Eric Conover Info:
Loves traveling, food, real estate, and fitness
2.1 million subscribers
Often cross-shares on Instagram
Serial traveler
Average views of 500 000 per video
3. Tess Christine
Tess Christine is an old hand at making YouTube videos and has been vlogging about her life since 2011. She shares great tips on everything from makeup, food, interior styling, fashion, and motherhood.
Tess built up a loyal following with makeup tutorials and testing out new skincare or makeup products. She vlogs her daily life and shares many personal details that her followers appreciate.
Her partner and young son regularly feature in her videos. They also documented the pregnancy progress and the transformation of their home and son's nursery. They recently moved into a new apartment in Brooklyn,
Tess Christine Info:
Loves her family, fashion, makeup, and trends
2.32 million subscribers
4. LivingBobby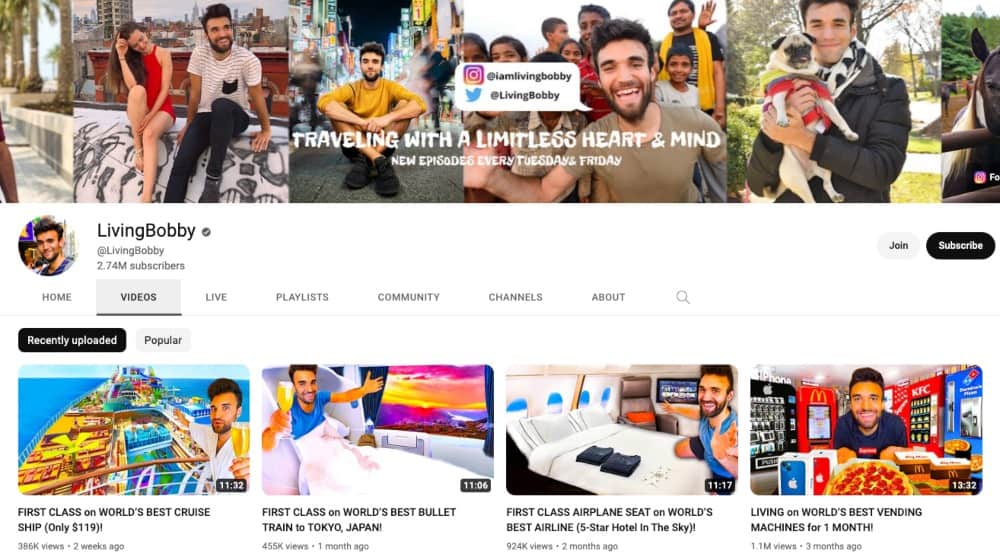 LivingBobby is a popular traveling YouTuber who documents his travels worldwide. He loves spending time with locals and usually shares meals with random people.
LivingBobby regularly does YouTube challenges he records, such as living off meals from a vending machine for one month or living on $1 Chinese street food for 24 hours.
Some of his most viewed vlogs show him testing various pod hotels, first-class seats on the world's best airlines, or living in a first-class cabin on the world's largest cruise ship.
He also loves doing the world's most expensive vs. the world's cheapest videos that are a hit among his subscribers. What makes him famous is that he uses every opportunity to tell his subscribers everything they need to know when visiting a place.
LivingBobby Info:
He loves to vlog about food and travel
He always finds the cheapest deals
2.72 million subscribers
Uploads twice weekly
5. Doug 'Censor' Martin
Doug Martin is a professional COD or Call of Duty: Black Ops player for Boston Breach and has won 2 National Championships.
He has made significant money and vlogs about his gaming, relationships, home, two dogs, and more.
Doug's PSN ID is Censor, and his XBL Gamertag is FaZe Censah, so it makes sense that his YouTube channel is called Censor. He is a PC platform player and usually streams his games live.
Censor is popular because of his great attitude and humble approach to everything. Even though he is still young, he shares parts of his life with the world openly and honestly.
If you follow Censor, you'll know he is into fitness and works out regularly. He often hands out discounts on products and supplements he uses.
Censor Info:
He loves his dogs
2.45 million subscribers
He loves his home and gaming studio ultra neat and clean.
He has played for several high-profile gaming teams.
6. Maangchi
Emily Kim is a South Korean living in New York and has been sharing her love for Korean food on YouTube since 2007. Her YouTube channel is called Maangchi.
She loves to teach her viewers and subscribers how to cook delicious Korean meals and does it effortlessly. Emily also vlogs her daily visits to different shops, what she buys and where she eats.
Emily always dresses up in cute outfits, explains the recipes in an easy-to-understand manner, and shows the ingredients close up. Her recipes are so popular she has published several cookbooks since 2015.
She is a celebrity in New York and attracts attention whenever she steps out to buy food or stops for a quick snack at a local restaurant.
Maangchi Info:
Her cooking videos average between 500 000 to 1 million views
Some of her videos have over 20 million views
6.1 million subscribers
She loves wintertime in New York
7. Brad Mondo
Brad mondo is a young and famous New York hairstylist who uploads various hair styling, coloring, cutting, and bleaching videos.
Brad is well known for his Hairdresser Reacts videos, where he watches other channels on hair styling and reacts to the processes. His videos are fun, entertaining, and always educational.
Brad loves to give advice, and many people seek him for his expert eye and gentle and non-judgmental approach.
Brad Mondo Info:
He has been making vlogs since he was 13
7.59 million subscribers
His videos average 2 million views
Brad loves to experiment with his own hair
8. QPark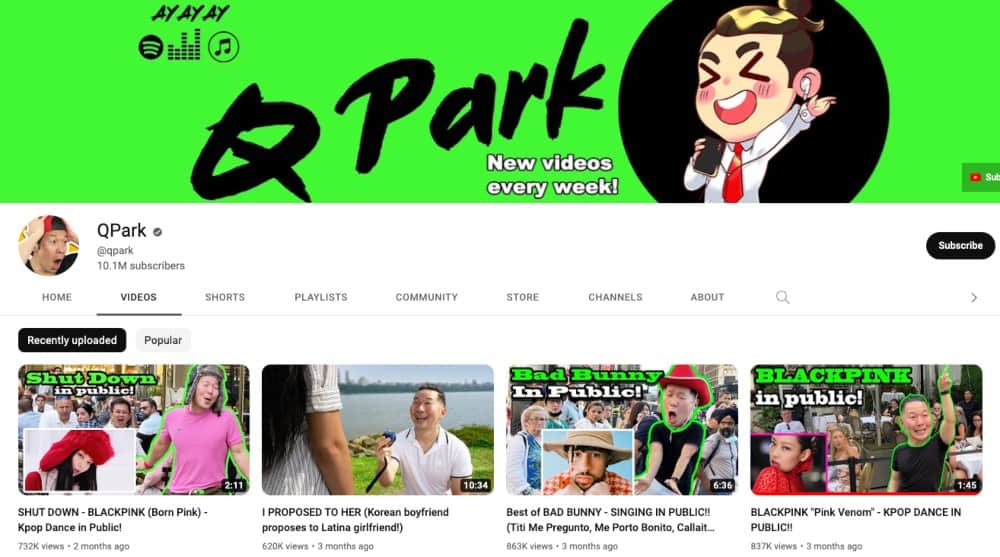 Joyce Tanner is a famous YouTube prankster who has been making videos since 2007. His YouTube channel is called QPark.
QPark was famous on Vine before YouTube and is best known for doing public challenges, skits, pranks, and public singing.
His videos are based on public reenactments of scenes in Tele Novellas, movies, or advertisements. He does this much to the amusement and shock of the public.
QPark Info:
He is a reaction YouTuber
Over 10 million subscribers
He proposed to his fiancé in public
He does not get embarrassed by anything
9. Casey Neistat
Considered the king of New York YouTubers, Casey Neistat is famous for vlogging while riding his electric skateboard through the city streets.
Casey recently moved back to New York after spending time in Los Angeles. Still, he came out saying that his family was not that happy, and they all missed the spirit of NY so much that they had to move back.
Casey is famous for creating Beme, which CNN acquired, and more recently for founding 368, a space that encourages collaboration between creatives. He often makes short movies that he uploads and vlogs about everything from travel to Do What You Cant.
Casey Neistat Info:
He made his wealth by selling Beme
12.4 million subscribers
Average video views of 5 million