If you're looking for entertainment, you should check out reaction channels on YouTube.
These channels feature YouTubers reacting to all sorts of things, from hilarious videos to crazy news stories. These can cover various topics, so it's best to find creators that match your interests.
Here are the best reaction channels on YouTube:
1. React
If you're looking for great reaction channels on YouTube, I highly recommend checking out React Channel and its awesome videos.
This channel features reactions to all sorts of things, from funny pranks to crazy news stories.
So check out this reaction channel if you want a good laugh this week. You won't be disappointed.
2. Good Mythical Morning (GMM)
Good Mythical Morning is a famous American YouTube show created by Rhett McLaughlin and Link Neal.
The show features a variety of comedic skits, challenges, and interviews. It has been running for over ten years and has amassed a large following of loyal fans.
So, if you're looking for a channel with lots of variety and quality, look no further than Rhett and Link's Good Mythical Morning (GMM).
These two guys do everything from giving film and food reviews to playing games and so much more with their audience to share their reactions.
3. Shane Dawson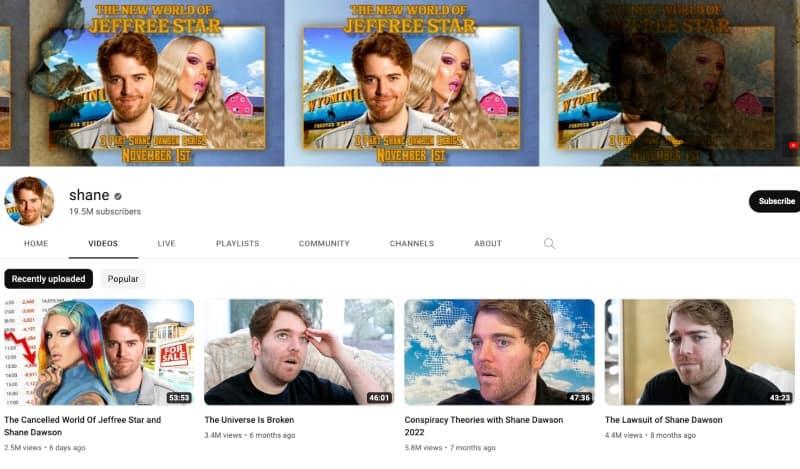 Shane Dawson is a YouTube personality known for his comedy videos and vlogs. He created his channel back in 2008 and has amassed over 19 million subscribers.
Dawson also wrote, directed, and starred in his feature film, Not Cool.
Shane Dawson's channel features various videos, and you'll find many hilarious moments on this channel.
The YouTuber uploads videos such as reactions to conspiracy theories, scary stories, music, and even weird compilations people made of himself.
4. Jacksfilms
If you're a fan of YouTube reaction channels, then you've probably heard of Jacksfilms.
Jacksfilms is the online alias of Jack Douglass, a comedian and video producer from Seattle, Washington, famous for his comedy skits, which often parody popular culture.
Douglass began his YouTube career in 2006, and his channel has since amassed over 4 million subscribers. Douglass has also won several awards, including the Best Web Personality award at the first annual VidCon in 2010 and the Best Comedy Award at the 2011 Shorty Awards.
In addition to his YouTube channel, Douglass runs a second channel called "Jacksembed." This channel is devoted entirely to pop culture news updates and features short comedy sketches only about 30 seconds long each.
On Jacksfilms, Douglass addresses various topics, including celebrity gossip, current events, politics, music videos, and more. He typically posts three to four videos weekly on his main channel and one or two on Jacksembed.
Jacksfilms is well known for his funny videos and reaction channels on YouTube. If you're a fan of hilarious reaction channels, then be sure to check out this one as well.
It features all kinds of reactions, from silly ones to serious ones. You'll find some great videos on this channel, sure to make you laugh.
His videos include parodies, reacting to and making fun of music videos, and much more.
5. H3h3Productions
Married couple Ethan and Hila Klein run the H3h3Productions channel.
The two create comedy routines that involve funny commentary over various popular videos on YouTube. They also comment on the latest news about celebrities.
The couple started their channel in March of 2014 and have since amassed over 6 million subscribers.
They are known for their hilarious reaction videos, sketch comedy, and vlogs.
6. JonTronShow
The JonTronShow is a channel created by YouTuber JonTron, where he posts comedic gaming videos and reactions. JonTron has more than 6 million subscribers and over 700 million views.
The JonTronShow is a fun and unique reaction channel that reacts to YouTube videos, conspiracy theories, ghost stories, video games, making funny content about himself, etc. I am positive that fans will enjoy watching the JonTronShow, given that the channel has over 6.68 million subscribers.
7. Markiplier
Mark Edward Fischbach, also known as "Markiplier," makes videos on YouTube that are part comedy routine and part gaming commentary. The channel features quality content like memes, playing scary games, and interactive movies.
Markiplier is known for his gaming videos, and he has over 33 million subscribers. His gaming channel is one of the best on YouTube and has earned him quite a fortune.
Mark is also known for his high energy and funny commentary, and his videos have earned him a massive following among gamers.
Mark has over 5000 videos you can choose from to entertain yourself and makes comedy sketches, animations, compilations, reactions, review videos, and challenges.
So, give this channel a shot if you haven't yet.
8. PewDiePie
PewDiePie is a Swedish YouTuber and video game commentator.
His channel was the most subscribed from August 29, 2013, until February 10, 2017, when T-Series surpassed it.
It is a viral channel on YouTube with over 111 million subscribers, and while he has changed his content up quite a bit, he does a lot more reaction content these days.
This channel has videos that will make you and your friends laugh.
9. Blind Wave
Blind Wave makes a whole host of content, from reactions to your favorite tv shows, movies, and viral videos to filming their own original content.
The YouTube channel was created by five friends who love movies, games, and pop culture. The channel has been active since 2012 and has amassed over 7K subscribers.
The five friends are Andrew, Paul, Shayne, Tyler, and Josh.
10. No Life Shaq
No Life Shaq is a popular YouTuber known for his funny videos and outrageous pranks.
He has a large fanbase who loves watching him take on various challenges and stunts.
He has created many other videos that have become quite popular as well.
His channel has over 3 million subscribers and more than 195 million views.
So, if you're looking for some hilarious content, then be sure to check out No Life Shaq's YouTube channel.
11. The Normies
The YouTube channel, The Normies, is well-known for its hilarious videos and reactions. The channel has a large fanbase who enjoy their content.
The Normies are a group of entertainers creating reactions and reviewing videos of various anime, TV shows, trailers, and movies.
Additionally, they upload original content such as sketches, podcasts, vlogs, and comedic sketches and skits. So, enjoy some laughs, and be sure to check out The Normies!
12. SSSniperwolf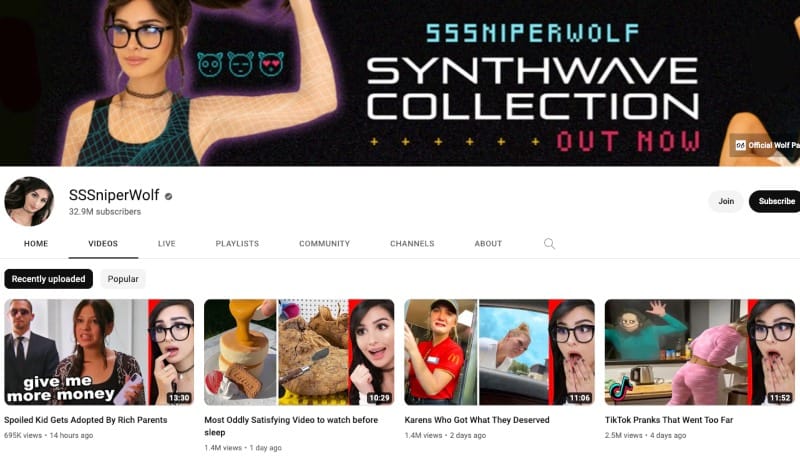 SSSniperwolf is a popular YouTuber who specializes in gaming videos and reaction videos.
She has accumulated a large following over the years, and her videos are often very entertaining.
Her channel is dedicated to gaming, and her videos feature a mix of gameplay, commentary, and humor.
Whether she's playing horror games or first-person shooters, SSSniperwolf always brings her A-game. Looking for some entertaining gaming and reaction content? Check out her channel.
Final Thoughts On The Best Reaction Channels
So, if you're in the mood for a good laugh or entertainment, check out any of these great reaction channels on YouTube. We promise that you won't be disappointed.
These channels are some of the best when it comes to reaction videos and skits, so sit back, relax, and enjoy some quality content.
FAQs
What Are Reaction Channels?
Reaction channels are a type of YouTube channel where people film themselves reacting to something. This can be anything from a new music video from their favorite artist to a trailer for an upcoming movie to a funny clip from a TV show or compilation.
Why Do People Like Watching Reactions?
There are many reasons why people enjoy watching reactions. For some, it's a way to see how other people feel about something before they watch it themselves. For others, it's simply entertaining to watch someone else's reaction. And for some, it's a combination of both.
What Are Some Of The Best Reaction Channels On YouTube?
There are many great reaction channels on YouTube, as listed above, but some of our favorites include PewDiePie, React, SSSniperwolf, and Jacksfilms.