As a teenager, you don't have to start making money with typical jobs such as mowing lawns, bagging groceries, or babysitting.
You can start making money online with a phone or laptop, a solid internet connection, and motivation. There are many weird ways to make money that 14 year olds can do.
This article will examine how to make money as a 14 year old online.
7 Ways To Make Money As a 14 Year Old Online
1. Online Surveys
Online surveys seem to be one of the most popular ways to make money online today, even for teens.
When you sign up for a survey company, you will complete surveys for other companies. This helps them make decisions about their products and services.
This job is easy to do during breaks or short bursts of time. Most websites listed below allow users to make money from 13 years old.
Swagbucks
Toluna
Survey Junkie
Opinion Outpost
Paid Viewpoint
2. Watch Advertisements
Did you know you could get paid just to watch advertisements?
A few websites allow young teenagers to make money online by watching these ads.
Two of the leading websites are MyPoints and Jingit.
These websites often also offer surveys, games, and other activities you can perform online to earn points that can be redeemed for online gift cards or cash.
3. Sell Things Online
As a teenager, selling things online is probably one of the biggest ways to make money.
Instead of making just a few dollars in one hour, you can sell bigger items for a couple hundred dollars (depending on what you're selling). 
You can sell items around the house on Facebook Marketplace or other online websites.
Some everyday items that sell well are books and electronics, arts and crafts items on Etsy, gift cards, auction items on eBay, and more.
4. Online Tutoring
Long gone are the days of meeting at the library for tutoring. You can now work from home during your free time as an online tutor.
You can reach out to friends on social media and offer private tutoring, or you could try signing up for a tutoring website allowing teens over 13.
If you know a particular PC program well, like Adobe Photoshop, Google Sheets, or an AI tool like ChatGPT, you can create a YouTube channel that teaches the masses how to use them.
Leila Gharani may not be a teenager anymore, but she's an excellent example of someone that excels in one program and earns a lot doing so (yea, excuse the pun).
5. Freelancing
Freelancing is becoming increasingly popular as a way to earn an income online.
You can freelance (or become an independent contractor) for almost any digital service. This can be for writing, graphic design, or even video editing.
You can start as a teenager on websites such as Fiverr or Upwork. Fiverr allows teens over 13 to join, and Upwork allows teens over 14.
You can start on Fiverr by adding a "gig" or the service you will complete. People will find your gig and order from you.
On Upwork, you will apply to jobs you can complete with a proposal.
If you want to connect with businesses directly, you can get Google Ads certified for free and offer local business marketing services directly.
6. Sell Graphic Designs
If you are good at designing graphics, then you can sell them. Websites like Cafepress or the "world's best gift shop" allow teens aged 13+ to join.
If you are creative, then you can design anything. You can sell designs on things such as:
Clothing (t-shirts, hoodies, etc.)
Home décor
Stationary
Cups, mugs, etc.
Stickers and signs
7. Start a Blog Or YouTube Channel
Starting a blog or YouTube channel is not the fastest way to make money, but it's more of a long-term game.
It takes a while for things like blogs and YouTube channels to grow, but you can monetize them in multiple ways.
If you build a following at a young age, you can create your brand when you get older.
Here are some ways you can monetize these:
Advertisements (Google AdSense for YouTube and premium ads like Ezoic for blogs)
Sponsorships
Digital or physical products
Services
Affiliate marketing
At a young age, you'll likely be focused on building a following and monetizing with advertisements. You can shift your focus to sponsorships and affiliate marketing as you get older.
Those will likely involve contracts, so you need parent involvement.
Lastly, if you have created your brand, you could expand to different products or services you could offer online.
Best Value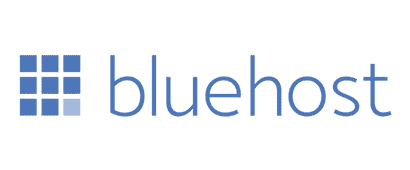 Get your website up and running with a simple one-click WordPress install using Bluehost.
Sign up for their hosting and get a free domain name and start a money-making blog for only $2.95/month (save 71% with the link below).
Final Thoughts On Making Money As a 14 Year Old Online
If you're a teen looking for ways to make money online, know there are options.
It's important that when you're looking for online work, you should always be careful. If it seems too good to be true, then it probably is.
Do not give out personal information, such as your social security number.
Have a parent or guardian set up a bank account and PayPal account for you so that you don't have to give bank account information, and you'll be set.
FAQs
How Can a 14 Year Old Make Money Fast? 
If you need to make money fast, look for a local job. Some ideas for this would be babysitting, delivering your local paper around the neighborhood, pet walking or sitting, yard work, tutoring, or setting up local Google My Business listings.
Can 14 Year Olds Get An Online Job? 
Yes, 14 year olds can get online jobs. The types of jobs are limited compared to 16 or 18-year-olds, but jobs are available. The minimum legal age to work online in the United States is 13. You can check out jobs on HireTeen, the Teen Jobs Resource website.
Do Online Jobs For Teenagers Require Parental Permission? 
In general, most websites will likely require parental permission. The legal working age online in the United States is 13 years of age, but you are not yet considered an adult. Because you aren't an adult, you will likely need a parent or guardian's permission, as you do with most everything else.