If you need inspiration for a better, more fulfilling life, you may consider following some lifestyle YouTubers.
Generally, when starting a YouTube channel, we'd recommend picking a specific niche, like a hobby, for you to make videos. Still, some people have found success by vlogging about their daily lives.
The best lifestyle YouTubers include:
1. Sarah's Day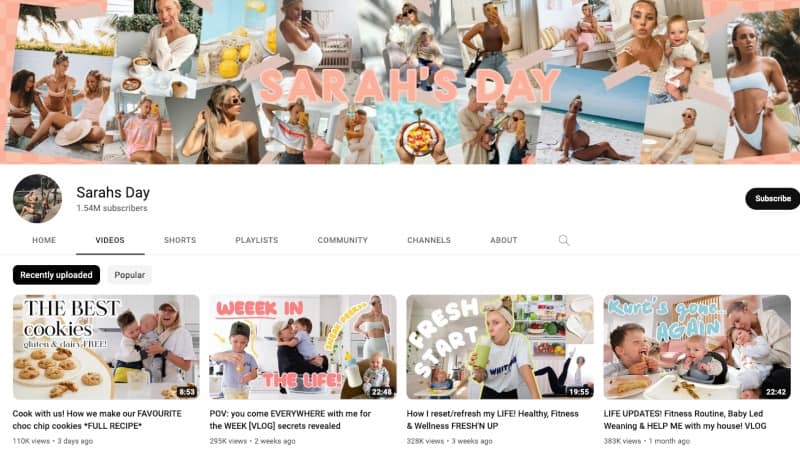 Sarah's Day is a fitness and lifestyle YouTube channel where Sarah shares her daily life with subscribers. On this channel, Sarah shares her journey of clearing her hormonal acne.
In addition, she shares recipes and workout guides and lets subscribers in on her daily struggles.
With her husband, dog, and two sons, Sarah makes YouTube videos to inspire, entertain, and involve her subscribers in her daily life.
Sarah focuses on light humor and entertainment and shares her deeper emotions. With over 1.5 million subscribers, Sarah is currently one of the most popular lifestyle YouTubers.
2. Tina Yong
Tina Yong's home page says it all. "Beauty. Lifestyle. Vlogs." Tina specializes in making fun and entertaining videos that her over 3.6 million subscribers on YouTube look forward to watching every day.
Tina makes videos where she tries on popular clothing brands, orders clothes, and other items from Shein, and makes interesting TikTok recipes.
She occasionally also shares makeup and skincare tips. Tina recently had her first child, which shifted her content slightly. She now also shares her journey of being a new mother.
For the most part, though, Tina still focuses on making beauty and lifestyle content anyone will enjoy watching.
3. YBS Youngbloods
YBS Youngbloods is an Australian YouTube channel where Brodie Moss shares everything there is to know about the Australian wild coast.
On this channel, you will watch Brodie as he takes you around the Australian coast, sharing information about the plants, animals, and ecosystems.
You'll also see Brodie diving and driving around on his jet ski while looking for fish and lobster.
So if you want to learn about the ocean and watch relaxing videos while craving a simple life on the coast, YBS Youngbloods is the perfect channel to check out.
4. Charlotte Dobre
If you are searching for comedy, look no further than Charlotte Dobre. Charlotte has a lifestyle and comedy channel that she shares with her over 1.2 million subscribers.
She often makes reaction videos of things gone wrong, and you cannot help but laugh at her hilarious remarks.
Charlotte Dobre is an American YouTuber and is also present in the gaming world. Her witty comments and sincere laugh make for entertaining YouTubing, and her channel is perfect for those who wish to unwind and have a few giggles.
She also occasionally shares tours of her home and her personal experiences.
5. HopeScope
HopeScope is another interesting YouTube channel with over 2.6 million subscribers. Hope buys strange items on her channel, such as Amazon returns, mystery boxes, and lost luggage.
She then does the unboxing on her YouTube channel, and subscribers have fun seeing her reaction to the items.
Hope also does some famous TikTok trends on her YouTube channel. In addition, she often reviews popular brands with ridiculous price tags to see if they are worth it.
Hope has an entertaining personality, and her channel is fit for everyone.
6. Mia Maples
Mia Maples has what can only be described as a lifestyle YouTube channel. Mia shares her experiences as she renovates parts of her home, bakes cakes to compare with ones ordered from bakeries, and tries on different dresses from return boxes.
Mia also got married recently and has had a series on YouTube where she shared her journey planning everything for the wedding.
She also shares makeup tips and tries popular hacks for makeup and hair. Mia's videos range in style and seriousness.
Still, her over 3.7 million subscribers indicate that her videos are entertaining and worth watching.
7. Emma Chamberlain
Emma Chamberlain is an American YouTuber who makes YouTube videos around the world. She often travels and then shares her experience in the new countries she visits.
Furthermore, Emma makes videos of her daily life, whether cooking, cleaning, or sharing tips on hosting a party.
Emma also tries famous TikTok trends, like joining the 5 am club and what a day in the life of a YouTuber looks like.
Emma has an interesting perspective on life, having started her channel while still a teenager. This makes for entertaining YouTube content that she openly shares with her 11.8 million subscribers.
With an approximate net worth of $12 million, she's living the American dream.
8. Lavendaire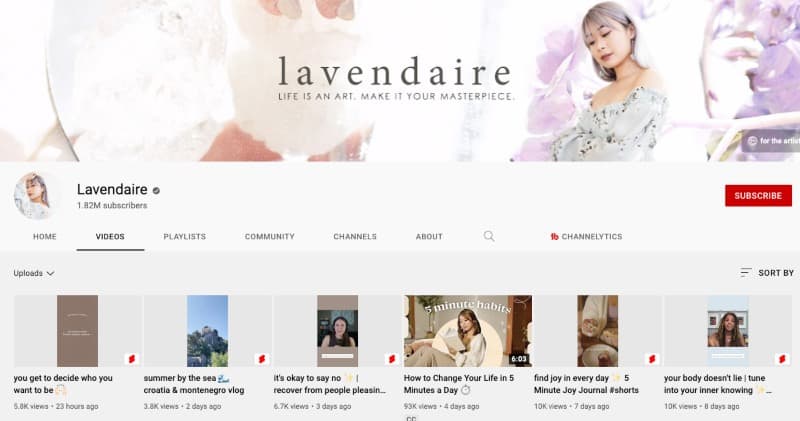 Lavendaire is another great lifestyle YouTube channel where Aileen shares her journey to living her best life.
Aileen shares content aimed at helping you overcome challenges you may face throughout your daily life to become a calm, goal-orientated person. Aileen also shares guides to meditation, breathwork, and tips to improve your confidence.
Lavendaire differs from other channels in this list because it is aimed mainly at women. Her style of YouTubing features soft colors and a calming aesthetic, and her content primarily focuses on helping women overcome specific challenges.
Nonetheless, Aillen's YouTube videos inspire and comfort those who watch them.
9. Connor And Liana
Connor and Liana are a British couple sharing bits and bobs of their daily lives. Both have their own separate YouTube channels, but their content together is the most entertaining.
Connor and Liana share the content of various things, like going to Starbucks for a drink, trying out new food from TikTok, or pranking each other.
The couple recently had their first baby, so their recent content focuses on what it's like being pregnant and having a newborn.
In this sense, their videos are interesting as subscribers see more of what the dad typically feels and does than other channels only focusing on the mother. Connor and Liana have exciting stories to share, and their over 2.6 million subscribers agree.
10. Sophdoeslife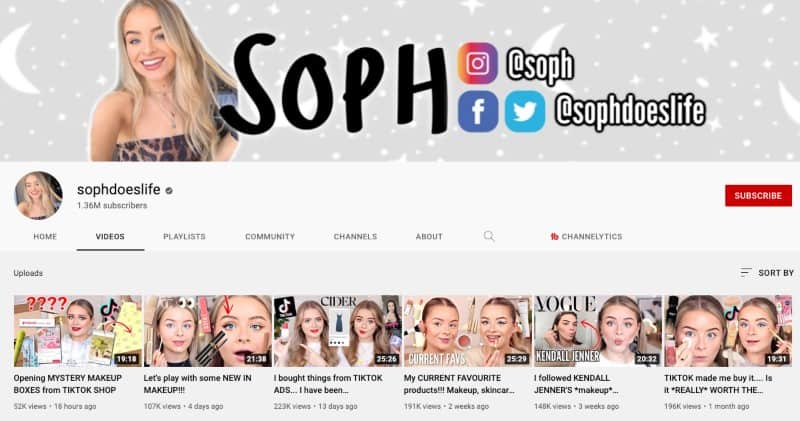 Sophdoeslife is a YouTube channel focused on beauty, fashion, and makeup. Soph often shares tips and tricks for doing makeup – for day-to-day as well as events.
She also posts videos where she tests popular Instagram and TikTok products to see if they work. You can expect honest reviews and responses from these videos.
Soph is also a professional nail artist and shares some of her work on YouTube. Her Instagram is more geared towards doing nails.
So, if you need a channel that shares tips on how to do makeup, hair, nails, and beauty, Sophdoeslife is worth checking out.
11. Safiya Nygaard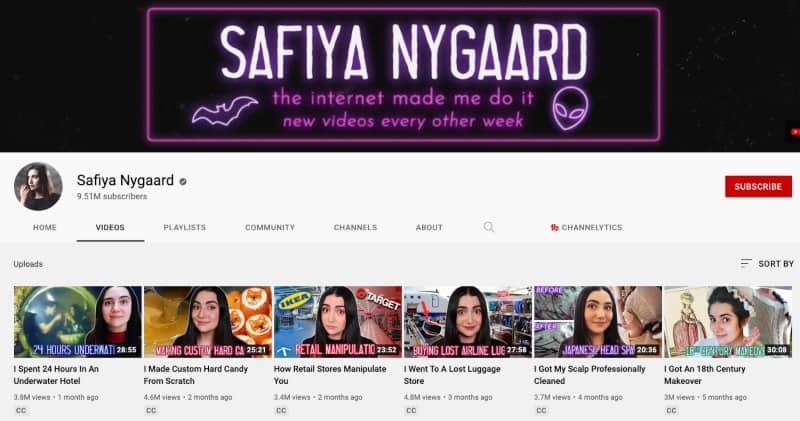 Safiya Nygaard has been making entertaining videos for more than ten years. Her videos range in style and topic, and she often shares videos where she tries new things. Challenge-style YouTube videos are also very popular in her content.
For example, she has run a bubble tea shop for a day and has also made candy in a candy factory. Safiya mostly makes videos alongside her husband, Tylor, who is also featured often.
While Safiya makes popular trend videos, like ordering TikTok products, her videos are mostly a bit more unique. She has often tried making her own products, like lipsticks, bath bombs, and more.
Safiya also shares content whenever she travels, and we've seen some exciting content from her trip to Japan.
12. Rachel How
The final YouTuber on our list of lifestyle YouTubers is Rachel How. Rachel shares business-related content about how she grows her business portfolio and tips to help others do the same.
Her channel has seen many new subscribers recently, showing that people are becoming more interested in this content.
Rachel shares tips for creating the perfect CV, surviving your first month at a new job, and managing multiple income streams from your home.
Although her content is more job-related, Rachel makes interesting videos most people will enjoy watching and can learn from.
Final Thoughts On The Best Lifestyle YouTubers
Sarah's Day, Tina Yong, YBS Youngbloods, Charlotte Dobre, HopeScope, Mia Maples, Emma Chamberlain, Lavendaire, Connor and Liana, Sophdoeslife Safiya Nygaard, and Rachel How are some of the best lifestyle YouTubers out there.
These channels are a great place to start if you want someone to relate to or learn more about different lifestyles.
However, if you're not interested in lifestyle videos, you can find plenty of other content on YouTube that covers every topic under the sun.
Fitness channels, crime documentaries, cooking shows – YouTube has it all. So if lifestyle videos aren't your thing, don't worry! There's plenty of other content out there for you to enjoy.