While for most of us, YouTube is just a platform we occasionally visit for educational purposes or to pass the time when we are bored, for some individuals, YouTube is their full-time or part-time job.
Many of the most popular YouTubers are considered modern-time celebrities and prefer living luxurious lives in California.
The most popular YouTubers that live in California include:
California has recently been ranked as the state with the highest number of independent creators, with most listed creators locating themselves in Los Angeles; hence it is referred to as the city of creatives.
Living in California, surrounded by other creators, holds many benefits for YouTubers.
If you have plans to move to California and want to know who you might bump into on the street or are just curious about the lives of these creators- you have come to the right place.
1. Markiplier
Mark Edward Fischbach, more commonly known as Markiplier, is a 33-year-old YouTube star (born on the 28th of June, 1989) who started his YouTube career in April 2012.
Markiplier is originally from Honolulu, Hawaii, but he started his career in Cincinnati, Ohio. This YouTuber currently lives in Los Angeles, California, where he specializes in playthroughs of indie and horror games.
Markiplier describes his page as a channel you will find all sorts of entertainment from "horror games, or funny games, or comedy sketches, or animations, or compilations, or reactions, or reviews, or challenges, or cryptic lore, or mind-crippling ennui" to "stuff-that-is-guaranteed-to-probably-make-you-cry."
With over 33.5 million subscribers and over 18 billion views, Markiplier has an estimated net worth of around $60 million, making him one of the most successful YouTubers on the platform.
2. Collins Key
Collins Key, an American actor, magician, and YouTuber, was born on the 9th of May, 1996.
This 26-year-old famous and talented YouTuber currently lives in Los Angeles, California, with 23.9 million subscribers and over 6 billion views, but believe it or not- his popularity is not entirely based on his YouTube personality.
America's Got Talent producers discovered this creator on Youtube as a magician. He was only 16 years old and made it to America's Got Talent finals of the eighth season.
After his appearance on America's Got Talent, he started focusing on his YouTube channel, which gained 16 million subscribers in only two years. His primary focus at this time was and still is today, comedy videos.
3. David Dobrik
David Dobrik (Dávid Julián Dobrík) is a Slovakian internet personality. This star was born on the 23rd of July in 1996, making him 26 years of age today, and is currently located in Los Angeles, California.
Dobrik hat initially gained extreme popularity on Vine (a video-sharing platform discontinued in 2016), where he collaborated with Viners such as Liza Koshy and many more.
In 2015 Dobrik started his own YouTube channel and is now a well-known YouTube star. His fans, primarily teenagers, enjoy his high-energy videos so much that he has been awarded the status of most popular media personality amongst teenagers in 2019 and 2020.
Dobrik currently has 18.2 million subscribers on YouTube, with more than 7 billion views on his videos.
Dobrik is also the co-founder of Dispo, a mobile camera app with over a million downloads which in 2020 was one of the most downloaded apps on Apple's App Store (although he did step down from his board position recently).
This star has also served as a presenter and voice actor, has his podcast, and in 2020 launched his brand of fragrance, David's Perfume, with Flower Shop Perfumes Co.
Thus, it is no surprise that Dobrik is having great success in his life and has a net worth of around $25 million.
4. Lilly Singh
Lilly Singh is a 33-year-old (born on the 26th of September, 1988) Canadian YouTuber, born and raised in Scarborough, Ontario.
In 2015 she relocated to California to further her career as an internet star.
Singh has not only made her name as Youtuber but has also served as a singer, author, and actress (including in the famous movie "Bad Moms") and hosted her own television NBC talking show called "Little Late with Lilly Singh."
Lilly Singh joined the YouTube community in 2010 and today has two channels with 14.6 million and 2.75 million subscribers, respectively.
Not only does the insane growth of her channel prove her success, but in 2016 she was rated third on the Forbes list of the highest-paid YouTubers worldwide. Her net worth is an estimated $20 million.
In 2019 she was listed on the top 40 most powerful comedians and received multiple creator rewards for her work as an internet star.
5. Emma Chamberlain
Emma (Frances) Chamberlain is an American YouTuber, born and raised in California, who has gained popularity rapidly from a very young age.
In 2018 Chamberlain moved from Bay Area to Los Angeles to start her life independently and to continue with what she did best- entertaining her fans.
Chamberlain turned 21 in May and has already proved successful in many aspects of life, including financially, where she has a net worth estimated at $12 million.
Chamberlain joined YouTube on the 14th of June 2016 and today has 11.8 subscribers enjoying her fun, authentic videos weekly. She also has 16,1 million followers on Instagram.
Chamberlain also hosts a podcast, "Anything Goes," and started her coffee company, "Chamberlain Coffee," in 2019.
Chamberlain has also worked with world-class brands, attended Paris fashion week sponsored by Louis Vuitton, and received many rewards, including Breakout Creator in 2018, Choice Female Web Star in 2019, Best Podcaster, First Person Award, Social star and Pop Podcast awards in 2020 as well as Creator Product award for her coffee company.
In 2022 she was nominated for Favorite Female Creator but sadly did not win.
6. Mark Rober
Mark Rober is a well-known YouTube personality. Rober is one of the most prominent YouTubers, and he is also known to be highly caring and well-educated. Rober was born in 1980 in Orange County, California, and turned 42 in 2022.
He spent nine years as an engineer for NASA and four years as a product designer for Apple.
Rober made his first YouTube in 2011 and received 1.5 million views in one day. At this point, Rober was still working at NASA, but in 2019 switched to YouTube as his full-time job (and has amassed a net worth estimated at $28 million in the process).
Today this YouTube personality has 22.4 million subscribers on his channel and almost 3 billion views. Rober has gained great respect worldwide. This star not only balances family life but also uses his platform for good.
This YouTuber, father, and husband use his large fan base to raise awareness for autism (since his son has autism).
In 2019 he associated himself with the #TeamTrees project, working alongside MrBeast and other YouTubers to raise funds for the Arbor Day Foundation, who pledged to plant a tree for each dollar raised. He again, in 2021, co-founded #TeamSeas, which raised funds for the cleaning of the sea.
7. Brent Rivera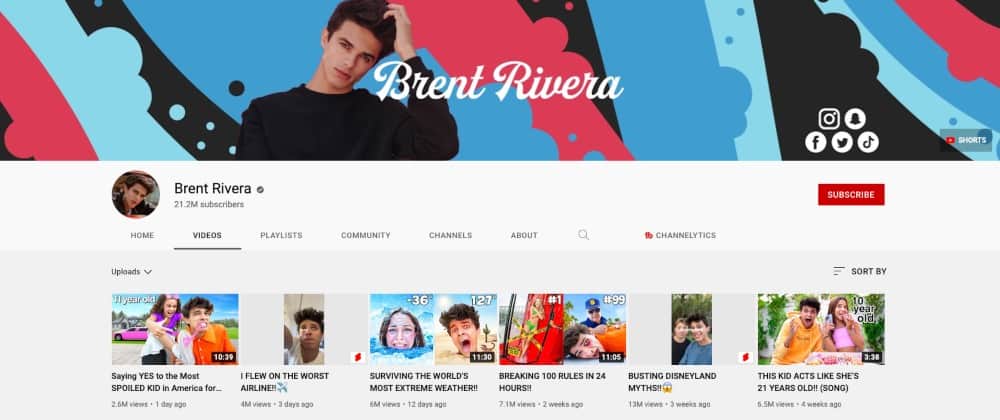 Brent Rivera is a 24-year-old American internet personality living in Huntington Beach, California. Rivera was born in January 1998 and is part of a large family (consisting of his mom, dad, and three siblings).
His sister, Lexi Rivera, is also an internet personality who has had great success.
This star has gathered a large following on multiple platforms, including Instagram, TikTok, and YouTube, initially building his fan base from Vine.
Rivera joined YouTube in 2009 and has 21.1 million subscribers with over 4 billion views.
He also flourishes on TikTok with an insane following of 45 million who enjoy watching his fun, energetic and funny content daily.
Final Thoughts On YouTubers That Live In California
Living in California has many perks- great weather, a diverse landscape, and an endless supply of things to do.
For YouTubers, it also means easy access to some of the world's most influential people and businesses. In this article, we've looked at seven YouTubers who call California home.
While their content varies greatly, they all have one thing in common: they know how to make the most of living in the Golden State.