Many YouTubers have had their channels for a long time, and some have stopped making videos altogether and moved on to other projects.
Let's examine some popular YouTubers, their channels, and why some quit YouTube. 
We will see what they have done to keep their channels popular and how long they have managed to keep it this way.
Here are some of the most successful old YouTubers:
1. PewDiePie
We'll start with PewDiePie, one of today's most popular YouTube stars.
PewDiePie has been creating videos on his channel for over seven years, which is quite an achievement considering how competitive the YouTube industry is.
One of the things that he has done to keep his channel popular is to create more content. On average, he uploads two weekly videos, much more than most YouTubers.
This helps him build a loyal fan base and increases his chances of getting more subscribers each time he makes a new video. Another thing that PewDiePie does is put out different types of videos.
He has played many games over the years, which has helped him create a channel that people can tune into whenever they want to play games online or watch someone else playing them.
2. Tyler Oakley
Another YouTuber who has managed to keep his channel popular for several years now is Tyler Oakley.
He started by doing vlogs, but he eventually started doing other types of videos as well. He uploaded multiple videos per week on average when he was active.
At the end of 2020, Tyler Oakley announced he would take a break from YouTube after 13 years of great content. The video titled "See ya later" definitely saddened his fans since he did not mention when he would return to the platform.
3. Casey Neistat
Casey Neistat is another famous YouTuber who has made videos for years.
He started with vlogs but has also done other types of videos. This includes some travel videos where he took viewers on trips around North America and Asia.
He has been able to create many different types of content over the years, and this is one of the things that people like about his channel.
He has over 12 million subscribers and is well-known for his former daily vlogs in New York City. He never made a formal video stating that he is taking a break from YouTube, but fans know he has been working hard on a documentary.
4. Jenna Marbles
Jenna Marbles was a YouTube star and vlogger. She was best known for her comedy videos that ranged from random rants about life experiences to more serious topics such as body image issues.
Jenna has over 10 million subscribers on her main channel and over 2 billion video views. So, it's fair to say she is one of the most successful YouTubers.
In recent years, she has become less active on YouTube, leading some to wonder if she still makes videos.
She decided to end her YouTube career in February 2020. Fans and subscribers anticipated her return, but it looks like she won't return.
5. Filthy Frank (Joji)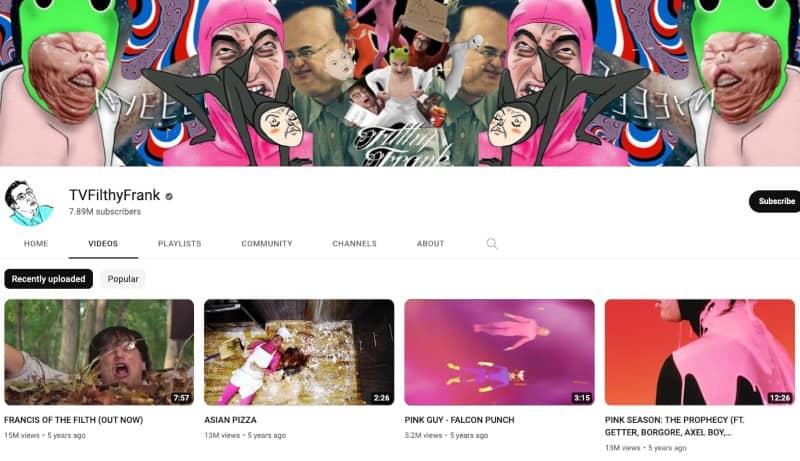 Filthy Frank was a famous YouTuber because of his strange and funny content.
After accumulating 11.2 million subscribers and a total of 1.72 billion videos on his channel, Filthy Frank had to quit YouTube in December 2017 due to health-related issues.
He mentioned that he no longer enjoys making Filthy Frank-related videos. Nowadays, Filthy Frank is best known as a successful musician under the name Joji.
6. Rosanna Pansino
Rosanna Pansino has been active on YouTube since 2009 and has over 13 million subscribers.
She films all her content in Los Angeles. Not only is she a popular YouTuber, but she is also an actress, author, and singer.
Rosanna Pansino makes a whopping $6 million yearly from posting content about baking and old-fashioned dad jokes.
Without accepting 90% of sponsorships, she still earns $6 million annually. No wonder she's never contemplated quitting YouTube.
7. Liza Koshy
Liza Koshy rose to fame on Vine and YouTube, amassing a huge following with her hilarious videos. Liza Koshy quickly gained 10 million subscribers when she started her YouTube channel in 2013.
Liza's main YouTube channel has more than 17 million subscribers and 2 billion views.
In 2018, Liza Koshy decided to take a 10-month break from her main YouTube channel but quickly returned in January 2019 with a new channel, Liza Koshy Too, and a video titled "Why I Took A Break."
She explained that she had difficulty dealing with mental health issues and creative burnout. However, now she's back, and fans are happier than ever.
8. Dane Boedigheimer
Dane Boedigheimer, or Dane Boe, started his YouTube channel in March 2006, and from then on, the channel grew and became successful.
He has uploaded countless videos and is still very much active.
Many people know him from his Annoying Orange video. The video was loved by many, and soon after, he decided to continue making similar content.
9. Joey Graceffa
Joey Graceffa frequently posts vlogs, reaction videos, etc., but his fame arose from joining the StyleHaul YouTube network in 2013.
Joey has gained over 9.4 million subscribers and more than 2.1 billion views on his main YouTube channel.
He also has three additional channels, including a popular Roblox channel with over 2 million subscribers.
10. Zoe Sugg – Zoella
Zoe Sugg began her YouTube channel in 2009 and quickly gained over 10 million subscribers.
She put all her effort into the brand she launched, Zoella Beauty, her family, Alfie Deyes (boyfriend), and their child.
After years of creating beauty and make-up video content, she eventually left the platform but has since returned.
Zoe Sugg still gives insights into her life on Instagram, but the posts are not as frequent as some would like.
11. Bart Baker
Bart Baker was one of the best comedy channels on YouTube, with over 10 million subscribers on his channel.
His content consisted of hilarious parodies of famous songs. Billboard even dubbed him as the most prolific maker of music parodies.
However, in September 2019, he quit his career as a YouTube celeb to follow his next venture as a Chinese music artist, but you can still enjoy funny parodies on his channel.
12. Shane Dawson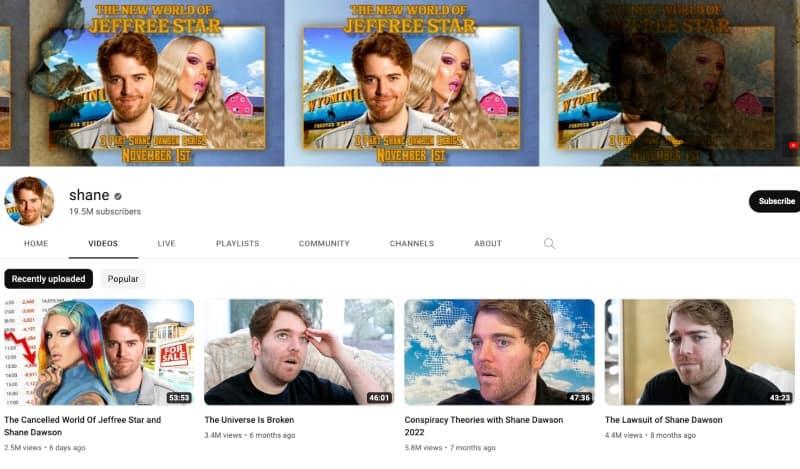 Shane Dawson is a well-known YouTuber who has been making videos for over ten years, so he's been around for quite some time.
Shane Dawson was one of the few who quickly rose to fame on YouTube in 2008. He is known for his comedic style and willingness to experiment with different types of videos.
He has also written two books and directed two feature films. His content is hilarious and often features controversial videos, so there's always something new and exciting to check out on his channel.
Dawson was involved in some conflict on the video-sharing platform, which led to his six-month absence from YouTube.
He eventually returned in October 2021 and quickly returned to his feet, continuing his career as a famous YouTube personality.
Final Thoughts On Old YouTube Personalities
As the saying goes, "you can't keep a good YouTuber down." Even though some of these old YouTube personalities have been inactive for years, their legacies still live on.
For better or worse, they've helped shape the site into what it is today.
Some may have taken breaks or stopped making videos altogether, but they all still hold a special place in the hearts of their fans.
And others are continuing to push the limits of YouTube with new and interesting content.