I love search analysis and keyword research. It's one of the best feelings finding a "gap" that you know will drive traffic and generate views. But how do you find these "gaps" and actually check that they are as popular as you think? The best way is by using YouTube Keyword Tools.
In this article, we're going to cover the 10 best keyword tools for SEO on YouTube.
All of these keyword tools can be used for free, but some have paid upgrades that make them more powerful or allow you to do more without having to wait a day for your free daily quota to reset.
Why YouTube SEO is so important
Getting views from searches is a vital part of growing a YouTube channel.
It isn't the sexy traffic you get from being recommended or having your videos appear in YouTube's suggested areas that can then generate hundreds of thousands of views overnight. But it is the traffic that gets that ball rolling, bringing in a relatively stable number of views on a consistent basis.
YouTube views that come from search results are an evergreen form of traffic. Meaning that it can stay ranked as the number 1 video for months and years to come. Trends may come and go, but if you have a quality video on "How to install pavers" that ranks in the top 3, there's a good chance that the video will maintain its position for the next couple of years and consistently bring you traffic from homeowners and you'll even receive a higher RPM on the ads that appear on that video.*
YouTube Keyword Tools help you assess your chances of ranking for a keyword or phrase, and help you find ideas for videos that you may not have thought of otherwise. They can also provide additional suggestions to help you rank for a term even if it is very competitive.
Then as you start ranking within your niche, YouTube can recognize what your channel is about and who is interested in it. This starts the snowball effect and videos with viral intent have a higher chance of being recommended and suggested to potential viewers and subscribers.
*Homeowners are generally the only people really interested in installing pavers, so they would be the ones watching the video. Because this audience is so specific and can be considered a higher-income demographic, the ads being shown to them will be for higher-value items and the advertisers would be willing to pay more. For example, a pool installer could run ads targeting this demographic, or a real estate agent to see if they want to sell their home (this is a very basic breakdown, but you get the point).
10 Best YouTube Keyword Tools for Video Optimization
1. TubeBuddy
TubeBuddy is a YouTube channel management and video optimization tool with some of the most useful SEO features for YouTube available.
It has a free browser extension (for Chrome, Firefox, and Edge) that automatically adds more details to your search results and allows you to peek at information that you normally can't see when viewing a competitor's video or channel.
These are my favorite TubeBuddy features for SEO:
Videolytics
TubeBuddy's Videolytics allows you to access advanced analytics and insights, for any YouTube Video, even ones that aren't yours.
This is a great keyword research tool to spy on your competitors. With it you can see what tags they've included in their videos, how well the video is performing, get video tag ideas for your own YouTube videos and you can even compare videos to better analyze them.
Best of all, videolytics is a free feature you can use once you install the browser extension.
TubeBuddy Keyword Explorer and Search Explorer
The Keyword Explorer from TubeBuddy is probably the most useful YouTube Keyword tool.
You can use it to analyze keywords and phrases, and it will show you how popular a search term is, how competitive it is, and how well optimized the videos that currently rank are. This can then help you decide whether or not you should target that keyword, optimize for a different keyword, you should even create the video on that topic in the first place, or if you should try looking at it from a different angle.
What you also get is a variety of insights around the keyword you've entered, like:
Related searches: Helping you find less competitive long-tail keywords.
Video topics: Giving you ideas for related videos you can make.
Vid Carousel Checker: This lets you know if videos appear in Google Search results for the keyword/phrase, if yes, you can get even more views from Google searches if your video ranks well.
All of this is available on the free plan, however, the related searches, topics, etc. will be limited to the top 3 results.
With all of the paid plans, you have unrestricted access and you can see the weighted score for the keywords for your channel in comparison to the current top-ranked videos (which can give you a more accurate score on the likelihood of your video ranking).
The Search Explorer offers a similar analysis to the Keyword Explorer, albeit slightly less detailed. But I like the search explorer as it appears directly in your search results.
This allows you to see keyword scores and get video ideas as you're using YouTube normally and you can stumble across video ideas that you may have never come across otherwise.
This is another free feature with the same limitations as the keyword explorer.
Insta-suggest and Recommended Tags
The Insta-suggest feature from TubeBuddy speeds up the process of typing in meta tags as well as gives you ideas.
It provides you with tag suggestions as you type them in. So, when filling out your tags, you receive the most searched terms to get ideas on tags to include and to optimize your video more efficiently.
The Recommended Tags that appear beneath your video tags is also a useful way to scroll through possible tags to include and can often have recommendations you wouldn't have thought of yourself.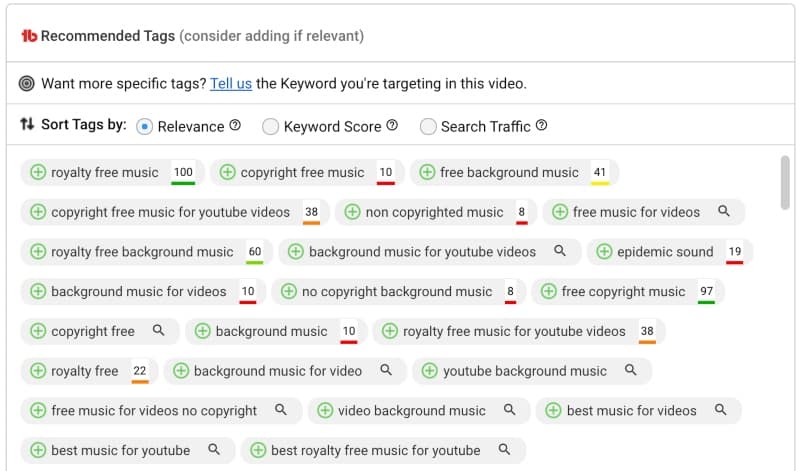 Both of these features are limited to the top 3 results for the free plan but are unlimited on all of the paid plans.
Bulk Find, Replace, and Append
This is one of my favorite features on TubeBuddy because of its incredible usefulness.
This is a bulk processing feature that does a simple thing but does it extremely well, saving you hours of time.
With it, you can change some or all of the video descriptions on your channel in one go. For example, if you have a link to your latest video inside of your description, you can update it across all of your video descriptions in one go. If you have hundreds of videos, this can save you hours of time.
From an SEO perspective, if your videos perform well within the first 24 hours, YouTube will be more inclined to promote them more on the platform. By using the bulk processing feature, you can use the strength of your existing videos to funnel views to your new videos, giving them an organic boost. And if you have a channel focused on a specific niche, your viewers will be far more engaged.
Another bulk processing feature is the ability to add and remove text from your descriptions. This can be useful if you want to promote something new, have a new social channel where people can find you, and do a ton of other things.
The replace feature is very useful for affiliate marketers on YouTube. When you have special limited-time discounts, you can easily replace your link with the discount link and add a call to action letting viewers know when the promotion will end. Once it is over, you can then replace it with the standard message and link again.
The bulk processing features are only available on the paid star and legend plans.
A/B Testing
Another great feature TubeBuddy offers are A/B testing, specifically, for your video thumbnails.
Click-through rate is a major influence on the performance of a video and how well it can rank in search results. Your video thumbnail is the first thing that potential viewers see and can massively influence your CTR, which can cause your video to take off, or bomb.
By A/B Testing your video thumbnails, you can test which things people click on more, so then you can leave the more effective thumbnail design and create thumbnails for your new videos in a similar way as you know your audience engages more with them.
TubeBuddy makes this process easy, all you have to do is set a time span that the testing should occur in (or leave the settings to complete when enough data has been gathered) and then upload your second thumbnail to compare it. When active, your thumbnail will swap on a daily basis and gather information, once the data clearly shows a winner, that image will be set as the thumbnail.
You can also A/B Test titles and descriptions, but as this will cause YouTube to reindex your video, if you are testing a video that is already ranking for keywords, you may lose your ranking. For this reason, it's better to stick with Thumbnail testing for existing videos.
Download the free TubeBuddy extension here.
2. VidIQ
VidIQ is another YouTube channel management tool, like TubeBuddy, also with some very useful SEO features and a few other tools that TubeBuddy does not have.
For this YouTube SEO tool, you also have a free browser extension that will work and analyze in the background. And like TubeBuddy, you can upgrade to a paid plan that provides you with some more powerful features.
My favorite VidIQ features are all available for free though, and you can have both TubeBuddy and VidIQ installed at the same time without causing any conflicts. So, here are my favorite VidIQ keyword tool features.
VidIQ Search Keyword Tool
Like TubeBuddy, VidIQ also has a keyword search tool to help you analyze what keywords and phrases are worth going after for your videos. I personally prefer the TubeBuddy Keyword Explorer and search explorer, but VidIQ provides some cool features that can help you analyze search results and see if you can outrank the competition.
A rather simple but awesome feature is the like-to-dislike ratio shown as a percentage and is visible in the search. When you're looking through search results and find a few videos with a score of less than 90%, there's a good chance that if you create a similar video, addressing whatever it is that people are unhappy about in their video, you can eventually outrank them.
Trending Videos
The trending videos feature allows you to see what videos are generating the most views on any channel in real-time. This means that you can see what videos are performing well right now and not just videos that may have peaked in the last few months and are now hardly generating any new views to that channel.
When visiting the channels of your competitors, this can help you then see what video topics you could also create as you can see that the videos are generating a good number of views right now.
An example would be visiting MKBHD's channel, one of his most popular videos is an unboxing of the Samsung Galaxy Fold, made in 2019, but if I look at the VPH (Views Per Hour) it's only receiving 36.4 VPH. If I then check which videos are trending on his channel, I can see that his game boy video, also from two years ago, is generating over 1,700 VPH, meaning there is a much higher interest in it and would be more relevant to make if you are in a similar niche.
Keyword Opportunities
Another great way to find potential video ideas and keyword ideas is through the Keyword Opportunities area you can find in the VidIQ dashboard.
Here you will be shown the top keyword you can target for your channel based on what viewers are typing in to find your videos as well as popular similar keywords.
Along with the keyword, you can see how often it is searched monthly, how much competition it has, and a score showing how good of an opportunity it may be for your channel.
Download the free VidIQ extension here.
3. Google Trends
Google Trends is a great tool to check the popularity of keywords and viewers' search interests.
You can use Google Trends for YouTube SEO to see if a search term is trending down in popularity, or if it's increasing in popularity, which can help you decide if you should make a video on that or not. 
You can set the trends to only show YouTube Searches, giving you a more accurate prediction for YouTube.
Trends can also help you predict when to create videos based on seasonal things, for example, you can see below that interest in Christmas trees usually starts around the end of October every year. If you want to get the most out of those potential views, you should have your Christmas tree-related videos ready by that time.
Google Trends also shows me that there's a peak in interest in older iPhones whenever a new model is launched. Which is something I could capitalize on as a tech channel.
And you'll also be shown related keywords and related topics, which can help you come up with new video ideas and create more videos around a central theme.
4. YouTube Autosuggest
YouTube's Autosuggest is one of the best ways to find keywords and phrases that people are looking for. The autosuggest, or autofill, provides similar search terms that people are looking for when you search for something.
All you have to do is type in your key phrase, hit enter to search, and then click on the search bar (without typing in anything else) to be shown a selection of similar keywords and phrases people also look for.
You can also use the free autofill in the YouTube search bar to find longtail keywords. To do this, type in your keyphrase followed by a space and it will suggest additional words to add that people are actually looking for.
You can take this further by then going through the alphabet and looking for key phrases that will make sense for your channel (and then throwing them into a keyword tool like TubeBuddy to judge the competitiveness).
Another cool trick is to add an asterisk before, after, or anywhere in your phrase that will act as a placeholder and YouTube's search bar will suggest words to fill it. This is a really awesome way to find keyword ideas quickly about a specific topic.
5. Google Autosuggest
Google's autofill, or autosuggest, is basically the same as YouTube's.
But people on Google sometimes search for different things than on YouTube, after all, people on YouTube will be looking for the search term in the format of a video, whereas searches on Google could be looking for products, written content, images, etc.
This can then result in different suggestions to YouTube's autosuggest and can help you get different keyword ideas for your YouTube channel.
6. Ubersuggest
Ubersuggest, is mainly a keyword analysis tool for Google, but YouTube and Google searches can sometimes be quite similar, making these sorts of Keyword tools also quite useful for YouTube Keyword research.
With the free plan, you can make 3 searches per day, but you'll be able to see a long list of similar search terms and how often they're approx. searched on Google.
You can also filter your search to show related questions, which can be a good way to find the problems people are searching for within your niche, and then create videos answering those questions.
P.s. there are other keyword tools for SEO, like SEMrush, Ahrefs, etc. but Ubersuggest is one of the most affordable ones and offers a free plan for you to get started with (and you probably don't need all of the bells and whistles for doing YouTube keyword research anyway).
7. KeywordTool.io
The name does give it away, but this is a keyword tool. As some of the tools already mentioned, you can type in your keyword phrase and you'll be given a list of related terms and ideas that you can then use in your videos and on your YouTube channel.
What I like about KeywordTool.io is that you can filter for YouTube searches, set results to show for a global audience, and you can filter to show related questions.
The information like traffic, competition, etc. is hidden behind a paywall, but this keyword tool I find most useful for gathering ideas and finding the questions people are asking.
8. YouTube Analytics
The analytics on YouTube can provide you with a wealth of information to grow your YouTube channel. It can also help you when doing keyword research. One of my favorite tools with YouTube analytics is to see what search terms people are using and find my videos.
This can help you find keyword ideas and questions people are searching for that you didn't answer well enough in the original video and you can make a follow-up. It can also give you ideas that have nothing to do with your existing videos and people are still stumbling across your content.
To see the search terms people are using to find your videos do this:
Open the YouTube Studio.
Click on "Analytics" in the menu on the left.
Open the "Reach" tab.
Scroll down to "Traffic source types" and select "See More",
Select your preferred date range.
Select "YouTube search" from the list below the graph.
The search terms along with various data, like the number of views, will now be shown.
9. Keywords Everywhere
Keywords Everywhere is another keyword tool that comes with a chrome and firefox browser extension for free. Unlike the other tools listed here, Keywords Everywhere offers a pay-as-you-go upgrade. Meaning that you can purchase a set number of keyword searches and you don't have to pay a monthly subscription fee.
The free version allows you to see keywords, without the search volume data, but it is a useful tool that provides you with a variety of options all in one place. For example, you can see trending searches, long-tail keywords, related searches, and related keywords, all directly on Google.
You can also do searches directly on YouTube and then click the "Show Advanced Metrics" option for more details relating to the search, like ranking difficulty, most used tags, average video age, etc.
10. AnswerThePublic
AnswerThePublic is an incredible YouTube keyword tool to find out what people are asking about specific topics, brands, and even products.
Put in your video topic, and you'll get a cool graphic showing related questions people ask, keyword prepositions, comparisons, related keywords, and more.
P.s. AnswerThePublic is a cool tool for YouTube, but it's great for keyword research of all kinds as well.
Final Thoughts on YouTube Keyword Tools
As you can see, there are a plethora of great YouTube keyword tools, most of which you can use for free until you start making money with your YouTube channel (or maybe you use them to start making money online in other ways).
Regardless of what you choose, don't be limited to what the most popular channels are doing; if you haven't established a channel yet, target the less competitive, long-tail keywords, as these will be easier to rank for and then once you've gained some traction you can start challenging for the competitive keywords.
As some of these YouTube keyword tools overlap in features, it may not be the most effective method to use them all simultaneously. I suggest testing them out, along with other YouTuber tools, and seeing which ones you prefer the most and which fit your video workflow the best.