January was a great month for this blog, not only did my blog earnings increase, but website traffic and productivity also increased with me putting out a few great articles. So, with that being said, let's take a look and welcome to my blog income report for January 2021. This is how I made $1,182.25 blogging part-time last month.
As I mentioned in my first income report (last month), I plan on doing these monthly and before we get into the juicy numbers, I want to tackle one of the most common questions people ask when it comes to starting a blog.
Can blogs still make money in 2022?
The answer is straightforward: YES
Every year this question pops up and every year people start blogs and start making money… some even go on to become full-time bloggers.
There are more people online now than ever before, approx. 60% of the world's population in fact and 77% of them read blogs. With that many people (over 3.5 billion people who read blogs) there's more than enough opportunity for anyone to start a blog and make money in 2021.
Can blogs still make money in 2021? The answer is yes, as I'd like to show you this income report on this blog, but I've also covered this topic in more depth here if you're interested.
Now let's take a look at why I and other bloggers make these blog income reports.
Why make a blog income report?
Publishing a blog income report can be quite a weird experience, one I wasn't always comfortable with. For a long time, I didn't feel it was right to publish these reports. I felt that by sharing these reports I was being disingenuous with you, the reader. That by sharing what I was making, it would seem like I was saying all you need to do to earn $1,000+ on the side is to "start a blog".
In fact, this is completely the opposite, these blog income reports provide you with transparency to see what is possible with a small blog.
Unlike most blog income reports where bloggers are making $10,000+ every month, this blog is still quite small. By me publishing these reports, you can follow along on the journey to see how long it takes, the work involved, and what's possible with a small blog and a lot of determination.
These are 2 reasons why I am making these blog income reports, transparency and to document the journey. Another two reasons are:
Accountability – By showing what happened and setting future goals, I will hold myself more accountable to make it happen (although if we're being honest, me as a blogger, this is my site, I can delete a goal, or adjust a goal and no one would be the wiser… but I would never do that ?)
Inspiration – Income reports were one of the things that helped convince me that there was money to be made in blogging. It's not why I started blogging, but it is why I started adding affiliate links to my posts. ?
Income reports aren't about bragging, it's about showing you what's possible, what my goals are for the coming month, and even some of the things that didn't quite go as planned.
So, it's about time that we dive into some numbers.
Blog Traffic Report January 2021
Let's start things off with the traffic generated in January 2021 to outofthe925.com.
In this month I saw 25,162 sessions and 29,629 page views in total. This was a 22% increase over the previous month.

The majority of my traffic came from searches, with Pinterest taking second place. In the last year, my main source of traffic has flipped, with Google Search providing the majority of my traffic now, whereas Pinterest would provide the majority of my traffic before.
Pinterest is a great tool to get your first 10,000 page views per month as it generally doesn't take as long as Google SEO does to take effect. Towards the end of the year, I lowered my Pinterest activities quite a bit in order to focus on other projects, which reflects in the drop in Pinterest traffic.
I have placed more effort into Pinterest in January, but this will take some time to really show as in January the Pinterest traffic only had an increase of approx. 5%.
Search engine traffic from Google on the other hand has continued to go strong, with an increase of 26%. I have started implementing more sitewide optimizations and will continue to focus on creating search-optimized articles and other site optimizations in the months to come.
In January 2021 I uploaded four new articles:
As well as updating many older articles, here I have a few large articles on the agenda for this month to update.
So, how did I make almost $1200 blogging in January 2021? Let's get into it.
Blog Income Report January 2021: Income Breakdown – $1,182.25
Basically, everything came from affiliate commissions. These are commissions I earn whenever someone purchases a product or service through one of my links. The person clicking on the link doesn't pay anything extra, but the company pays me a small commission for the lead.
It's my favorite way of making money with a blog, as I like to provide everything I can on this blog for free, and readers that are interested in some tools or products can support me without having to spend anything more than they normally would on something they're already interested in.
So, this is where the $1,182.25 comes from:
TubeBuddy – $325.22
Bluehost – $640
Recommended Courses – $208.25
Amazon – $8.78
You'll notice that I made $0 from ads on this blog and this is because I don't have any ads running on this site. They tend to spoil the interface in my opinion, but it may be something to experiment with in the future once I've exceeded 50,000 sessions to work with a premium ad management service like Mediavine.
Blog Income Report January 2021: Expenses Breakdown – $120.46
I've shown you the income, not let's look at what blogging expenses I've encountered in December.
ConvertKit – $49
This is the email tool I use and recommend. Depending on the number of subscribers you have on your list, the price can vary, but it's free to start out with if you have less than 1000 subscribers. You can find out more about ConvertKit here.
Hosting – $35.05
I have moved to VPS Hosting (Virtual Private Server Hosting) this month (January 2021 – still with Bluehost though), as I have some additional projects and scaling plans. This is definitely not something that you need when you're starting out blogging, and more something to think about when you're generating more website traffic.
With multiple blogs, I've never had any trouble handling 30k-40k page views per month on Bluehost's shared hosting plan, just to give you an idea.
CDN – $6.41
A CDN stands for Content Distribution Network. It's used mainly to speed up your site by having your website content on servers all around the world. Meaning that when someone in Australia tries to visit your site, the Australian server can provide them with your content, and if someone in South Africa looks up your site, the South African server delivers your content.
This improves the speed of your website massively as it doesn't have to travel across the globe to one server. It also helps with server loading & security. I use Amazon CloudFront (AWS), and the $6.41 is the cost of the data that was delivered through the CDN, which isn't much, although with Bluehost you can use Cloudflare as a free CDN option.
Miscellaneous – $30
There are some more small things that I pay for yearly that all together add up to about $30 per month in total. Things like:
Blog Income Report January 2021: Gross Profit – $1,061.79
If we take the income and minus the expenses, we see that I made $1,061.79 blogging part-time with this small blog.
Blog Income Report Proof
Below you can find a few screenshots of some of the sources of income.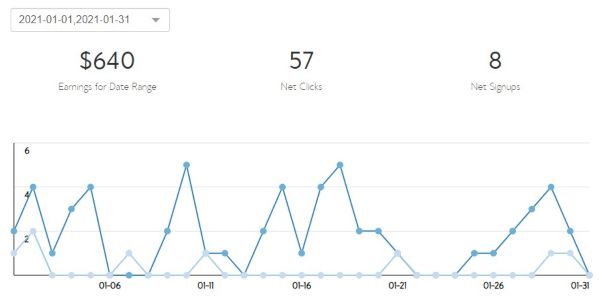 Blog Goals for February 2021
For February, these are the main goals that I have set for this blog:
Publish 7 NEW blog articles (2 already done)
Update a few pillar posts
Send out 5 emails to my email subscribers
Create and upload 75 new pins to Pinterest
And that's pretty much it, of course, I would love for the income to increase and the website traffic to increase, but I'm in this for the long run, so I want to focus more on delivering VALUE.
Recommended Blogging Tools & Resources
I hope this has given you a good perspective of the work involved in starting a money-making blog and if you're on the fence about starting, I would recommend just taking the leap.
Here are some resources I recommend for getting started:
Blog hosting with Bluehost
This is the hosting provider I use and recommend; you can get started for as little as $3.95/month with this link. In addition to the free Cloudflare CDN integration, when you sign up for one of their plans, they'll include your domain name registration for free for the first year. If you run into any problems, their support staff is also some of the best I've come across, resolving any issues very quickly.
They also have a one-click WordPress integration, meaning you can start your blog without having to worry about technical things like your server settings.
Get started with Bluehost here.
Pinterest Traffic Avalanche
The Pinterest Traffic Avalanche is a course provided by Alex and Lauren over at Create & Go. This course is designed to increase your blog traffic through proven Pinterest traffic techniques.
Pinterest is one of the best sources of traffic for new blogs and this course teaches you the A-Z of setting up your account, creating engaging pins, how to grow your account, and much more to drive targeted traffic to your blog so you can make more money.
Find out more about the course here.
Launch Your Blog Biz
If you're at the very beginning of your blogging journey and finding it tough getting started. I recommend the Launch Your Blog Biz course, also from Alex and Lauren from Create & Go.
This course guides you through setting up your blog with WordPress, customizing themes, creating graphics, how to write blog posts, blogging fundamentals, building your list, and many more useful and professional tips and tutorials. In addition to the blogging stuff, you'll also learn how to monetize your blog through affiliate marketing, sales, and email funnels, how to convert readers into buyers, using social media to get traffic to your posts, and much more.
If you want to get started making money with your blog, this is a course that I highly recommend. Find out more about it here.
Tailwind
In combination with Pinterest and the Pinterest Traffic Avalanche course, Tailwind can help accelerate your blog growth and reach your first 10,000 blog readers.
By using Tailwind, you can drive traffic to your blog whilst you're sleeping and it frees up your time to do more important things, like writing more articles, reaching out to other bloggers, or just spend more time with family.
Genesis Themes
I mentioned page speed earlier with the CDN, and page speed is a big factor in SEO, which is why I love the Genesis framework themes. These are optimized for speedy delivery. You can find a number of great looking fast child themes for Genesis here. (A child theme is a theme that goes over the main theme, it's basically how your site then looks; the clothes, whereas the framework is the skeleton… a very speedy skeleton).
Another thing I like about these "pre-built" themes, especially for new bloggers or if you're in a time pinch, is that you aren't overwhelmed with options like you would be when you start off with a page builder like Elementor.
---
For a step-by-step guide to starting your blog, check out this guide, or sign up for my free Blogging Bootcamp course here.