For most people looking to make money online or start a blog, the first question that comes to mind is, 'can you still make money blogging in 2023?'
If you're running short on time, the plain and simple answer is yes, you can. You can make quite a lot.
In this article, you'll learn why you can still become a money-making blogger in 2023, how much new bloggers make, how bloggers make money, how to go about making that blog money, and why you should become a blogger.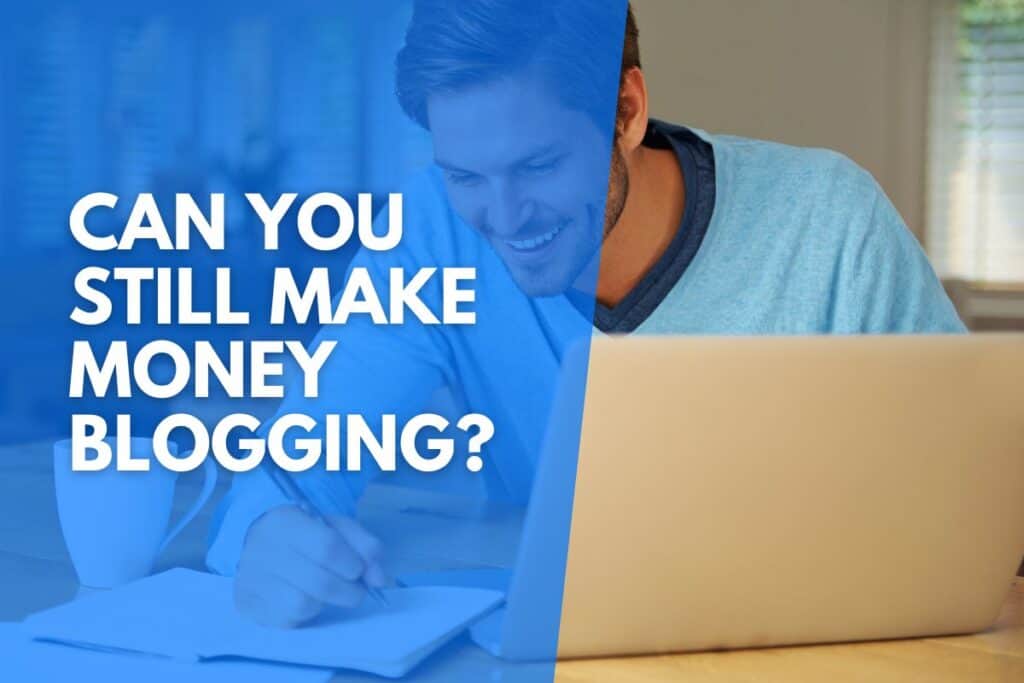 Why You Can Still Make Money Blogging In 2023
Before we dive into 'how,' let's consider why you can still make money with a brand-new blog in 2023.
To understand how to make money blogging, you need to know the value you're providing and why people would be visiting your blog in the first place. So, let's get started.
1. Blogs Provide Trust
Blogs are still the best way to build trust with your audience. Once your audience trusts you, it will be easier to sell them your products, courses, and services.
If you haven't yet got any of your products, don't worry; your trusted audience will be far more likely to purchase products, courses, and services you recommend (i.e. affiliate marketing).
2. Increased Number of Internet Users
There have never been as many people on the internet as there are right now. That means there are billions of people that could resonate with your story and find value in your future blog.
Your audience is right there, waiting for you to start writing great content for them to consume.
Not only are the number of internet users increasing but also online purchases and transactions are increasing.
3. Social Media Traffic Is On The Rise
Contrary to popular belief, you can drive massive amounts of traffic through social media, and it's on the rise.
Facebook may not be quite as easy as it once was, but platforms like Instagram, Pinterest, and YouTube, can drive hundreds of thousands of views to your blog every month.
You will first need to build up a social following on these platforms and implement a great social media strategy, but I've got a heap of helpful guides to get you started correctly with Instagram, YouTube, and Pinterest.
Pinterest I would consider the game changer when it comes to blogging, not only can you drive hundreds of thousands of page visits, but Pinterest also has a much higher income demographics compared to most other social platforms.
If you're only going to pay for one course on your blogging journey, I would recommend the Pinterest traffic avalanche. In the blogging world, there's a saying that traffic cures all, and with the Pinterest Traffic Avalanche course, you'll learn how to drive hundreds of thousands of targeted visitors to your blog.
4. Search Engine Optimization Still Works
Some people think it's impossible to rank well on Google and other search engines these days.
They have a point, it's very hard to rank for valueless content, and more so in 2023. But it's not impossible, one of the main sources of traffic for me on this blog, in fact, is through search engines, because I've put some effort into optimization.
What Search Engines value the most is quality content. When it comes to getting to the top of search results in 2023, you can't go wrong by providing value with long-form content (2500-4000 words) and doing some good old fashion keyword research beforehand.
When it comes to SEO, read Brian Deans's SEO blog. His comprehensive SEO guides could be sold for thousands, but it's free for you to read, implement, and start ranking first in search.
P.s. Pinterest tends to be a bit of a hybrid network, semi-social, and very search engine. Utilize SEO best practices found in the Pinterest Traffic Avalanche course to take your Pinterest game to the very top.
5. People Are Spending More Money Online Than Ever Before
Payment methods are becoming ever more secure, shipping is becoming faster and faster and people are more familiar with online shopping than they ever were in the past.
This means people are more ready to purchase from you, read your reviews, purchase from your affiliates, and so on.
Mobile shoppers are also increasing, meaning it's even easier to complete purchases through mobile devices… which is great, especially as over 50% of page visits are from mobile devices (even in the US).
Create a blog that's easily consumable via mobile and desktop to reap the most rewards on your journey.
Best Value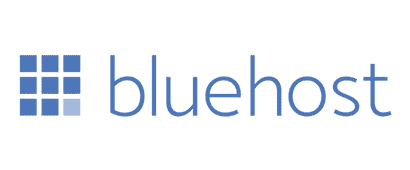 Get your website up and running with a simple one-click WordPress install using Bluehost.
Sign up for their hosting and get a free domain name and start a money-making blog for only $2.95/month (save 71% with the link below).
How Much Money Do Bloggers Really Make?
Most bloggers make nothing. Absolutely zero. Zilch. The total of 0.
Most bloggers don't put in the effort to learn new things, and they don't stay consistent to keep going, even during the dry months when traffic is at its lowest. They don't plan, test, and provide their audience with value.
Most bloggers make nothing, but I'm not most bloggers, and I sure as hell don't want you to be.
Blogging can be a passion and fun, and by providing great value, you deserve to get something out of it as well… let's be honest here, most of us want to make money with our blogs, even if we also want to help other people's lives and bring awareness to causes, etc. After all, you can do much more with more money than with no money.
Keeping it real, let's take a look at what some people were earning in their first years of blogging.
I'll start with myself.
Outofthe925.com – Digital Marketing – $3,000+/month
If you've just stumbled onto this post and haven't visited my blog before, I'd just like to take some time to welcome you and offer you the thought of a cold beverage. Cheers.
On this blog, you'll find social media, marketing, and blogging advice as well as current strategies and real talk to get your brand presence to the top of your online field. YouTube is also a big topic around here.
Joannarahier.com – Lifestyle and travel – $700/month
Joanna started her blog in December 2018, and in her 9th month, she was already earning a steady income from her blog, approx. $700/month.
What's great about Joanna's blog is that she proves that you can make money blogging, even if you haven't quite settled on your niche just yet, and are purely providing great value and driving that oh-so-valuable Pinterest traffic.
Aselfguru.com – Law – $20,000/month
When it comes to making money blogging, it's quite easy to earn $500/month by just putting in the work, and this is something anyone can do… In fact, it's probably the most affordable business to start.
What isn't easy to do, however, is to earn an average of $20,000/month within your first year of blogging. This is exactly what Amira over at Aselfguru.com did though. Amira's a lawyer and blogger, and by pinpointing her audience and developing some brilliant legal courses and templates right at the beginning of her blogging journey, she's gone from strength to strength in record-breaking time.
I've included these 3 examples of what you can earn in your first-year blogging if you put in the work (or really nail down your niche and go extra hard like Amira). The following blogs have been around for a little bit longer, but they're relevant to showcase that you can make money blogging no matter what niche you're in.
Two Wandering Soles – $14,000/month – Travel Blog
Sew Some Stuff – $2,800/month – Sewing Blog
Survival Life – $1,000,000/month – Survival Blog
The Flooring Girl – $2000/month – Flooring Blog
Art of Manliness – $33,000/month – Men's Lifestyle Blog
Succulents and Sunshine – $8,000/month – Succulent Blog
As you can see, you can make money blogging in just about any niche, and as Joanna proved earlier, even if you haven't completely decided on a niche, you can still make money blogging.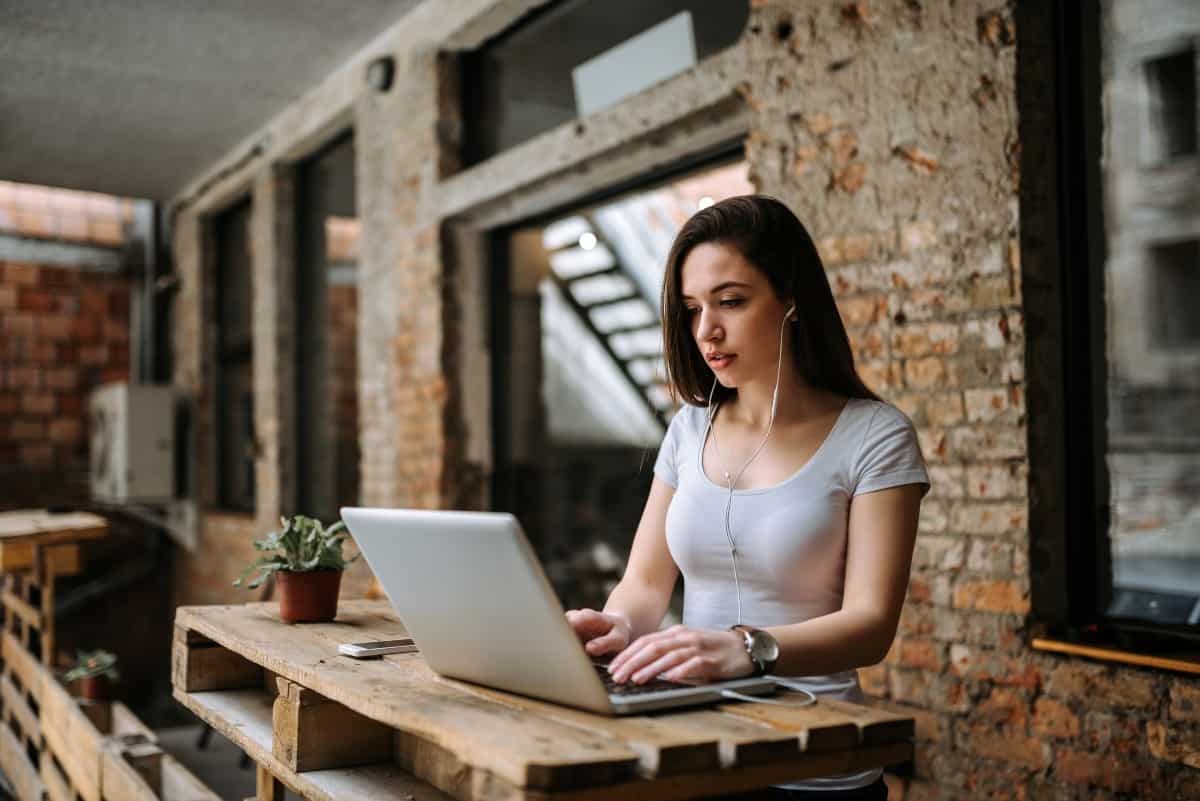 Different Ways To Make Money Blogging
When it comes to making money blogging, your options are only as limited as your imagination. There are some common ways for bloggers to make money though; they tried and tested if you will.
If you're new, these are some of your best options:
Make Money Blogging With Ads
This is often confused with being the only way bloggers can make money. This is not true; in fact, this tends to be one of the lowest-paying ways to monetize your blog.
You need to drive hundreds of thousands of visitors to make a living with only ads on your blog. That said, you can make some good money without having to do much of anything (besides your usual blogger things) to get paid monthly.
You can get started quite easily with Google AdSense, but I recommend joining a premium ad network like Ezoic; here, you can earn up to 10-20x as many per 1000 views as you would with AdSense… Which can add up.
Ezoic also benefits from not having a minimum traffic requirement like other premium ad companies. If you're already an Ezoic user, there are several optimizations you can do to increase your Ezoic revenue as well, simply by enabling some options.
Affiliate Marketing
Recommend products you use and love to your audience, once someone purchases through your link, you get a cut of the profits (some can be up to 50%). Doesn't that sound awesome?
That's affiliate marketing in a nutshell.
The key here is to only recommend products and services you would have no problem recommending to your loved ones (when applicable, I don't think granny wants a Fortnite subscription).
Affiliate marketing is the easiest way to start monetizing your blog (it's also how I earned $500/month in my first year with this blog).
Your Products, Services, And Courses
You can, of course also make your products, and courses and offer your services through your blog. This can often be the most lucrative way of monetizing your blog and turning you into a six-figure blogger.
The key here is to know your audience. Know exactly what they need and are willing to pay for, and then create and sell it.
If this sounds like you, the Six-Figure Blogger course is the perfect way to get you going (full review). This is the same course Amira from Aselfguru.com took to take her blog into six figures within her first year of blogging.
Best Value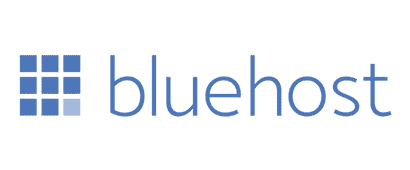 Get your website up and running with a simple one-click WordPress install using Bluehost.
Sign up for their hosting and get a free domain name and start a money-making blog for only $2.95/month (save 71% with the link below).
How You Can Actually Make Money Blogging
Now that you know the different ways to make money blogging, I will share with you the not-so-secret how to make money blogging.
You're going to need 3 things.
1. Passion For What You're Blogging About
You need to be passionate about what you're blogging about to stay motivated, be interested, pass your enthusiasm on to your audience, and be invested in your chosen field.
This means you get information about your niche through your regular day-to-day interests. When the days come when you're feeling down, your passion will still give you the strength to continue blogging through it, even at the worst of times.
Your audience will feel your passion for the topic in your writing and on your blog; making you more relatable and authoritative.
2. Knowledge About The Subject
You need to have some baseline of knowledge to start writing. You don't need to be an expert, but you shouldn't come in with zero knowledge, either.
The more knowledge you have on the subject, the better, especially regarding practical experience.
If you're passionate about a new topic though, don't let this discourage you. Be honest about where you are and remember that you might only know two or three things about something, but that's two or three more than most people know.
I haven't made six figures blogging, and I don't have the income reports that those large bloggers have, but I have practical advice in blogging that I can give to you (along with the other digital marketing advice).
I'm not the most knowledgeable person in the blogging world, yet, but I know more and have experienced more than most people have, and I want to share that knowledge with you.
3. Discipline
Often left out of most blogging advice, even though this is the one major determining factor of your success, is discipline.
This means; staying consistent, always learning new things, improving what you're doing through practice, listening to what your audience is telling you, etc.
You will never always be motivated, so learn to be disciplined instead. ?
Why You Should Become a Blogger:
Why start a blog? Here are some of the many reasons:
You set your own working hours.
Earn money passively, even whilst you're asleep.
Work from anywhere in the world.
Help solve others' problems and improve their lives.
Earn a great income as a full-time blogger.
Learn how to grow your own business.
Work with your favorite brands and creators.
How To Become a Money-Making Blogger In 2023
Step 1: Choose a domain name and set up hosting.
Best Value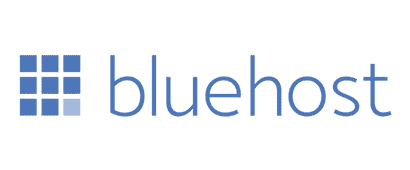 Get your website up and running with a simple one-click WordPress install using Bluehost.
Sign up for their hosting and get a free domain name and start a money-making blog for only $2.95/month (save 71% with the link below).
Step 2: You're going to need a theme.
I use GeneratePress as they're super-fast and don't overcomplicate things with excessive editing options.
Pick one you like and customize it to suit your needs.
Step 3: Start creating content.
Write, write, write. Now's the time to start adding content for your visitors to enjoy. Follow my step-by-step guide to writing blog posts fast whilst providing massive value here.
Step 4: Start your email list.
The best time to start collecting emails and monetizing your blog is right from the start. Your first visitors may be your first customers, so get to it. I use ConvertKit because they're designed for bloggers, but you can also use a free alternative like MailChimp (up to 2000 subscribers free).
If you're going the ConvertKit route, I've put together a detailed guide on how to set up your first email opt-in here.
Step 5: Drive traffic.
Pinterest is the best way to drive traffic to a new blog. Utilize social media if that's your thing and plan ahead by implementing good SEO techniques right from the start.
Here are 20 places to promote your blog for free traffic.
P.s. Don't be afraid of promoting your blog; if you don't talk about it, no one will know about your awesome website! And don't feel guilty about promoting your blog; if you're providing value, it will be appreciated.
Even if there are a few haters, they have nothing better to do and can't be very happy with themselves if they're actually taking the time out of their day to leave hate comments on your posts. Don't worry about them.
Step 6: It's time to monetize.
Start with affiliate marketing and ads. This will allow you to analyze your audience without wasting time making a course that might not sell.
Once you know what your audience is interested in, then you can start creating products and courses if that is how you want to scale.
Step 7: Don't give up.
If blogging was so easy, everyone would do it. The thing is, it is easy; people are just impatient, follow the wrong advice, and don't focus their efforts.
Keep going, keep learning, and keep improving, and you'll have a successful blog in no time.
What's next
Best Value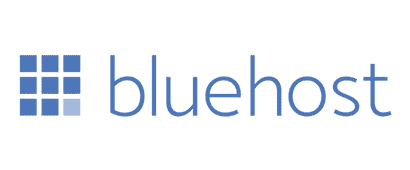 Get your website up and running with a simple one-click WordPress install using Bluehost.
Sign up for their hosting and get a free domain name and start a money-making blog for only $2.95/month (save 71% with the link below).
Launch Your Blog Biz
If you're at the beginning of your blogging journey and finding it tough to get started, I recommend the Launch Your Blog Biz course, from Alex and Lauren from Create & Go.
This course guides you through setting up your blog with WordPress, customizing themes, creating graphics, how to write blog posts, blogging fundamentals, building your list, and many more useful and professional tips and tutorials. In addition to the blogging stuff, you'll also learn how to monetize your blog through affiliate marketing, sales, and email funnels, how to convert readers into buyers, using social media to get traffic to your posts, and much more.
If you want to start making money with your blog, I highly recommend the course.
Drive Traffic with Pinterest
The Pinterest Traffic Avalanche is another course from Create & Go. This course is designed to increase your blog traffic through proven Pinterest traffic techniques.
Pinterest is one of the best sources of traffic for new blogs, and this course teaches you the A-Z of setting up your account, creating engaging pins, how to grow your account, and much more that will drive targeted traffic to your blog.
Finally, to answer the question, can you still make money blogging? Yes, you definitely can, and it may even be the best time to start a blog with a vast amount of free resources and information to help you on your journey.