Rust is a game that's been steadily increasing in popularity since it was first released in 2018, mainly due to YouTubers who stream while playing Rust.
These Rust YouTubers are responsible for greatly increasing and maintaining the game's popularity. But with so many people streaming and publishing Rust content, which Rust YouTubers are worth watching?
The best Rust YouTubers include:
1. BCHILLZ!
David Sneddon has a Rust YouTube channel called BCHILLZ! His channel has over 170,000 subscribers, which is relatively low compared to other gaming channels, but it's growing exponentially.
David is known for having incredible skill at the game. His videos are also high quality, so there are no fuzzy microphones or blurry visuals.
Those looking for strong story-based content will do better elsewhere, but if you want to see seriously incredible Rust gaming and PvP action, BCHILLZ! is a great channel to subscribe to.
2. Ser Winter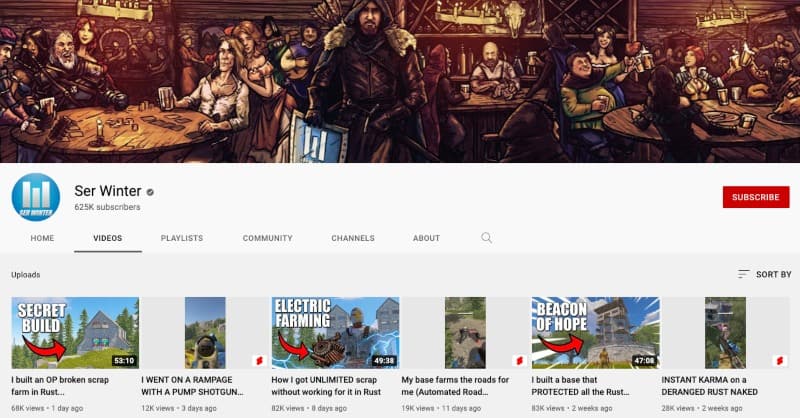 Ser Winter is an incredible Rust YouTuber with one of the highest subscriber counts on this list, at over 620,000 subscribers.
Ser Winter has two crucial things going for him: his sense of humor, which is impeccable, and his way of explaining what's going on in the video, which is especially important for viewers who might not know the game very well.
His videos are more story-based and focus on solo and co-op survival gameplay.
His subscriber count is growing strongly, and his channel is gaining popularity quickly, which is a great sign that he'll continue making content.
3. JordanRants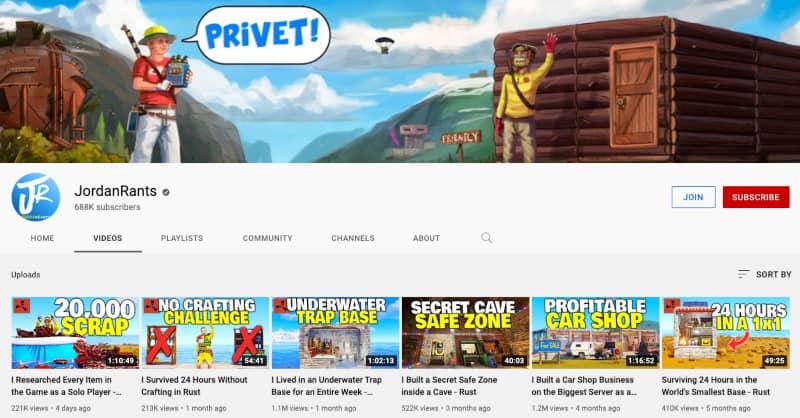 JordanRants is a fantastic Rust YouTuber for those who haven't played the game before but would like to see what the hype is about.
He focuses on solo survival while clearly explaining precisely what he's doing and why he's doing it.
He also adds brilliant English humor to his videos to make them even more entertaining.
The channel is fast approaching 800,000 subscribers, proving its popularity among new and experienced Rust players.
4. Coconut B
One of the most common factors that make fans recommend YouTubers is their use of humor in their videos. Coconut B is no exception.
Many Rust players recommend Coconut B, and almost all of them mention his sense of humor as one of the most important reasons to follow his channel.
The channel has almost 200,000 subscribers, but he only uploads one or two new videos weekly. Still, you can be sure that every episode will be filled with laughter, Rust survival, and explosive PvP action.
5. ThatGermanGuy
ThatGermanGuy's YouTube channel has one of the lowest subscriber numbers on this list, but that should not deter you from trying his videos.
He is fast approaching the 100,000-subscriber milestone, but regardless of subscribers, ThatGermanGuy's videos are perfect for those who love action-packed videos with excellent strategizing.
This Rust YouTuber loves to raid other players' bases with his clan, then publish their recordings on YouTube with commentary.
The channel also features videos about new things coming to Rust, so it's also an excellent channel to follow for those who want the latest Rust news.
6. Aloneintokyo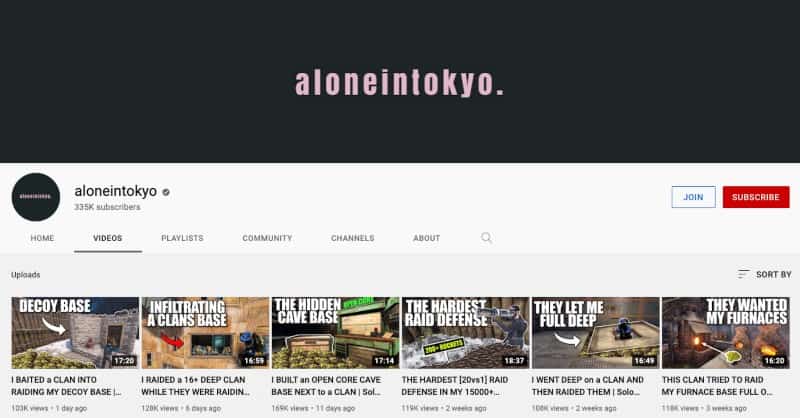 Aloneintokyo is an Australian gamer, musician, and YouTuber who is regarded as one of the best, if not the best, Rust players with an incredible skillset in the game.
This makes his videos mind-blowingly entertaining, and new players will learn a lot from this Rust master.
Aloneintokyo has just over 330,000 subscribers. His channel isn't organized into playlists, making it hard to find something specific, and he only uploads new videos about once a week.
But the quality of his gameplay makes Aloneintokyo an incredible channel to subscribe to, and you will soon find yourself unable to wait for the next video.
7. Tesla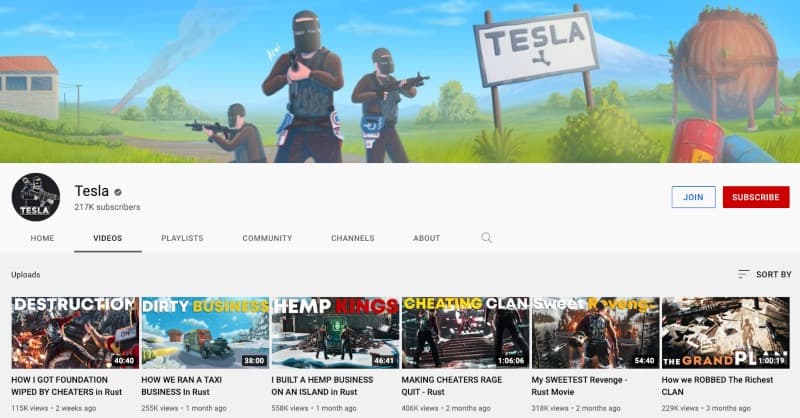 Finding information about the YouTuber behind the Tesla channel is very difficult, mainly because of the channel's name. But despite knowing very little about the man behind the channel, his YouTube channel is a goldmine for anyone interested in Rust.
Tesla is known as one of the humblest Rust YouTubers. He and his squad often conduct raids to take out toxic clans from Rust servers.
The raids are incredibly well-executed and planned, and Tesla has proven to be a master strategist.
He puts a lot of effort into how he records and produces his videos to ensure that they are entertaining and instructive for new players.
8. Taunted
Taunted is another YouTube channel that excels at posting immaculately executed raids.
This YouTuber is a great team leader and strategist who shows how a small group of friends can effectively take out even the most prominent rival clans in Rust.
Some fans say that Taunted has the best Rust raid videos on YouTube, bar none.
The channel has just over 100,000 subscribers, and subscriber numbers have been declining lately.
However, Taunted's views are snowballing as the channel's popularity increases despite not getting many new subscribers.
The channel is worth a look for anyone who loves strategy and raid videos.
9. Stimpee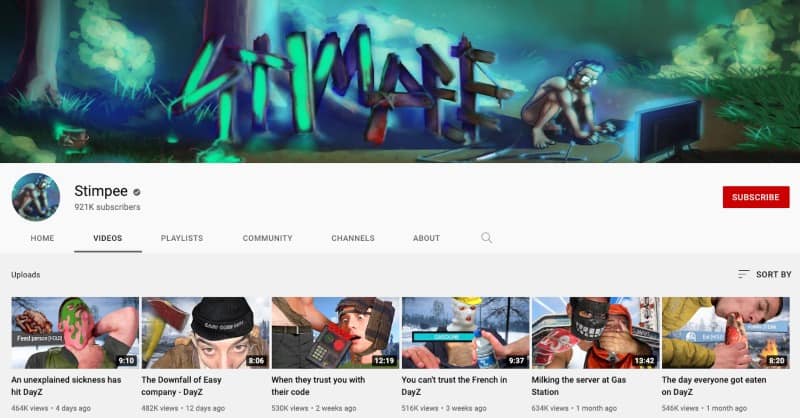 Rust YouTube videos are not for kids. The game itself has plenty of adult-oriented content. But Stimpee takes this fact to the next level.
YouTube has already demonetized his channel, so he simply doesn't care anymore and will put anything into his videos, regardless of how offensive they may be. So, this is not a channel for people who are easily offended.
With that disclaimer out of the way, Stimpee is also one of the funniest and most entertaining Rust YouTube channels.
Run by Australian gamer Bryan Stimpson, the channel features many different games, but he definitely prefers Rust.
Stimpee is a funny, clever, and conniving player who aims to entertain more than developing his playing skills. Stimpee is perfect if you just want to laugh.
10. Trausi
This is another highly recommended Rust YouTube channel, and fans mostly agree that Trausi is sadly underrated.
He has under 100,000 subscribers and gets very low views for each video, but he has a dedicated and committed fan base who are all frustrated with how Trausi fails to use YouTube to his full potential.
Players respect him as one of the best Rust players around. He is a master shot and brilliant at finding ways to survive where others would have simply given up and died.
Most of Trausi's videos are focused on solo survival in Rust and make for a good half-hour's entertainment.
11. Posty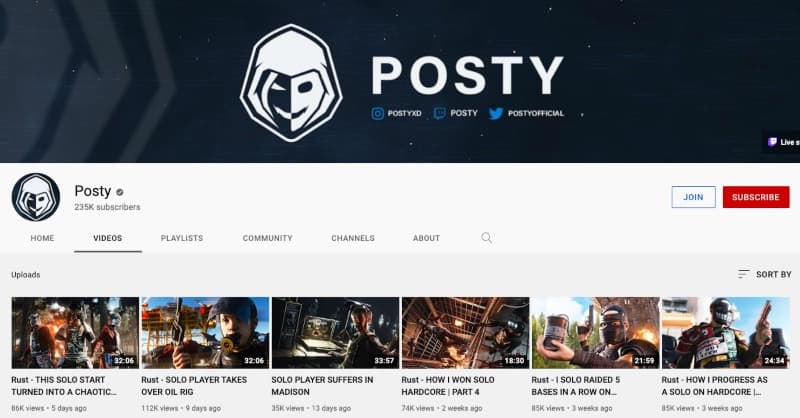 Posty excels at making Rust PvP (Player versus Player) content for YouTube.
He is pretty much feared in Rust PvP since he is an outstanding player, despite going solo most often.
His videos mostly showcase his exceptional talent at playing the game and defeating other players, but there are also many solo survival videos on his channel.
Posty has over 200,000 subscribers at present, and that number is steadily increasing.
12. Blooprint
Blooprint is a Rust YouTube channel with plenty of subscribers; currently around 1,8 million.
Most of Blooprint's videos are story-based and focused on solo and co-op survival.
Besides entertaining gameplay videos and live streams, Blooprint also publishes "Blootorials" to teach new players how to play Rust, showing them the lessons he's learned over the years that he's been playing.
All in all, Blooprint's channel is wholesome, entertaining, and educational, and other players often mention him as the reason why they started playing Rust in the first place.
Final Thoughts On The Best Rust YouTubers
As you can see, there are various types of Rust YouTubers to choose from. The above channels are perfect if you're looking for entertaining gameplay videos, solo survival tips, or raid strategies.
If you're new to the game, need help with the basics, or want to hear about the latest Rust news and developments, be sure to check out these channels.
Whatever your preference, there's sure to be a Rust YouTube channel that you'll enjoy. And if you're interested in other games, like Call of Duty, Roblox, Minecraft, or even FIFA, there are plenty of great content creators on YouTube.